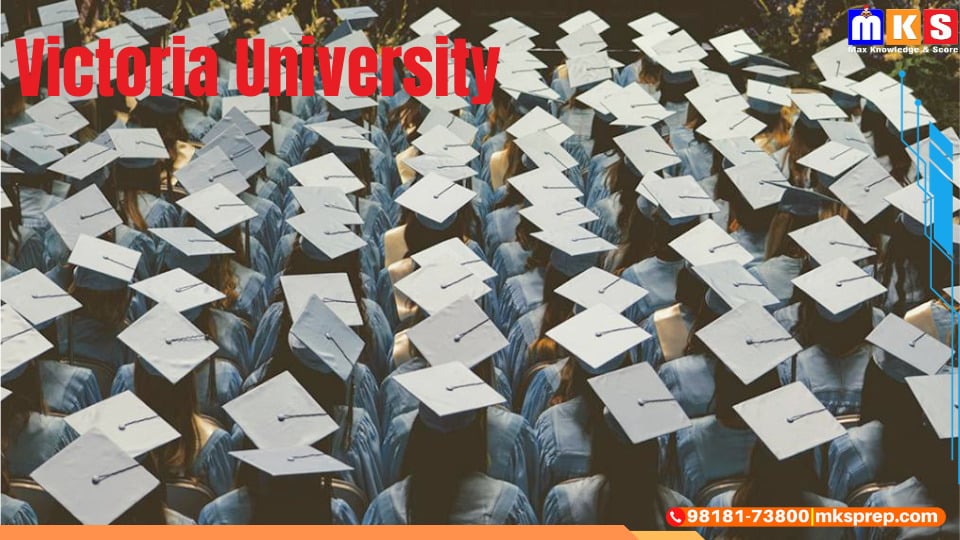 Victoria University
If you are interested in studying at this college, please fill out the form. Our counselor will reach out to you soon.
Explor more options
Victoria University
Navigating Educational Excellence: Your Guide to Studying at Victoria University with MKS Educational Consultancy
Introduction: Discovering Victoria University's Academic Oasis
Located in Melbourne, Australia, Victoria University (VU) stands as a beacon of academic excellence, offering a diverse range of programs across various faculties. With the expert guidance of MKS Educational Consultancy from Nepal, your journey to VU becomes a seamless experience.
MKS Educational Consultancy: Your Experienced Navigator
MKS Educational Consultancy has a proven track record of helping students achieve their dreams of studying abroad. With a focus on personalized assistance, their experienced team is dedicated to ensuring your successful transition to Victoria University.
Best Things About VU:
Location, Faculty, Placement:
Nestled in the vibrant city of Melbourne, VU provides a dynamic urban setting for students. The faculty comprises experienced professionals and academics dedicated to nurturing talent. VU's strong industry connections facilitate excellent placement opportunities for graduates.
Price Range:
VU understands the financial considerations of international students. The university offers a competitive price range, ensuring accessibility to quality education.
Academic Level:
VU caters to various academic levels, from undergraduate to postgraduate studies. The diverse academic environment fosters intellectual growth and personal development.
Courses:
Explore a plethora of courses tailored to meet industry demands. VU's curriculum is designed to equip students with practical skills and knowledge, from business and technology to health and arts.
Scholarship Opportunities:
VU offers scholarships recognizing academic achievement and diverse talents. MKS Educational Consultancy can guide you on the application process, enhancing your chances of securing financial support.
How to Approach Studying at VU from Nepal:
Consult with MKS:
Initiate your journey by consulting with MKS Educational Consultancy. Their experienced team will guide you through course selection, admission requirements, and documentation.
Application Process:
MKS ensures a smooth application process, assisting with document preparation and submission. They provide insights into the visa application process and offer valuable tips for a successful application.
Pre-departure Assistance:
MKS prepares you for life in Australia, addressing concerns about accommodation, cultural nuances, and daily life. Their support ensures a confident transition to your new academic environment.
Frequently Asked Questions (FAQs):
What are the entry requirements for VU?
MKS can provide detailed information on VU's entry requirements, including academic qualifications and language proficiency.
Are there part-time work opportunities for international students?
Learn about part-time work options through MKS and understand the regulations governing international student employment in Australia.
Is there any specific English language proficiency requirement for admission to Victoria University?
Yes, Victoria University typically requires international students to demonstrate proficiency in English through tests like IELTS or TOEFL. MKS Educational Consultancy can guide you on the specific requirements and preparation tips.
What types of accommodations are available for international students in Melbourne?
Melbourne offers a variety of accommodation options, including university-managed housing, private rentals, and homestays. MKS can assist you in finding suitable accommodation based on your preferences and budget.
Are there opportunities for internships or work placements during the academic program at VU?
Victoria University values practical experience, and many courses include opportunities for internships or work placements. MKS can provide insights into specific programs offering hands-on experience in your field.
How can I extend my visa if I plan to stay in Australia for further studies or work after completing my course at VU?
MKS can guide you through the visa extension process, explaining the requirements and procedures involved in extending your stay for additional studies or work opportunities.
What support services does Victoria University offer to international students?
VU provides a range of support services, including academic support, career counseling, and health and well-being services. MKS can provide information on these services and how to access them.
Can I work part-time while studying at VU as an international student?
Yes, international students on a student visa in Australia are usually allowed to work part-time during the academic session and full-time during scheduled breaks. MKS can provide details on the regulations and opportunities available.
How does Victoria University promote cultural diversity on campus?
VU is committed to fostering a diverse and inclusive campus environment. The university organizes cultural events, clubs, and activities to celebrate diversity. MKS can provide information on the cultural aspects of student life at VU.
What is the process for applying for scholarships at Victoria University?
VU offers various scholarships, and the application process may vary. MKS can assist you in identifying suitable scholarship opportunities, understanding eligibility criteria, and preparing a strong application.
Useful Links:
MKS Educational Consultancy (Insert MKS Consultancy's official website or contact details)
Embark on your educational journey with confidence, guided by the expertise of MKS Educational Consultancy and the academic excellence of Victoria University.
We are sorry that this post was not useful for you!
Let us improve this post!
Tell us how we can improve this post?