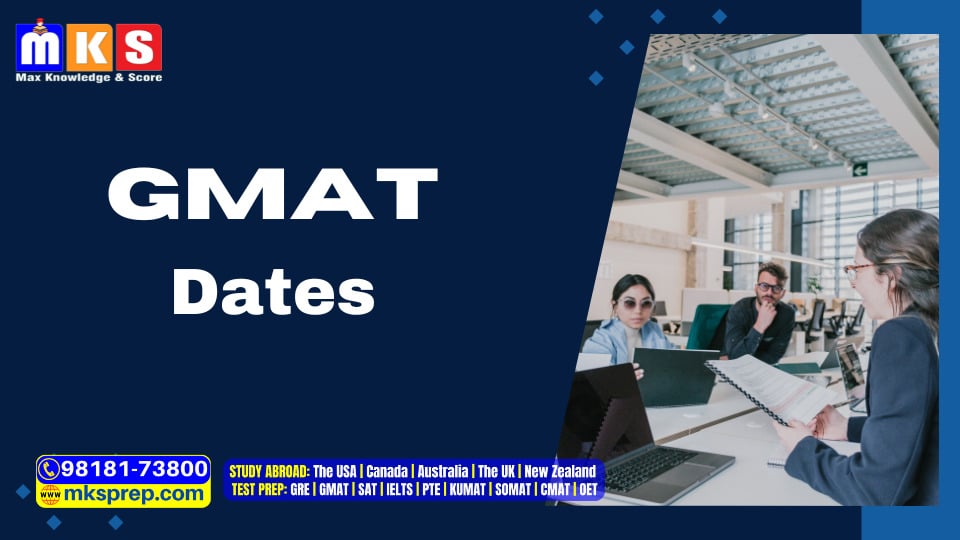 This content is helpful for
GMAT Date in Nepal 2023
Apply for the course; we will call you back soon.
GMAT Date in Nepal Introduction
A standardized test called the GMAT (Graduate Management Admission Test) is used to evaluate applicants' aptitude for business and management studies. Business schools worldwide accept it as a component of the admissions process. The Graduate Management Admission Council (GMAC) is in charge of administering it.
The GMAT is routinely provided in authorized testing facilities in Nepal. You can find the test locations and available test dates by visiting the GMAC website and choosing "Nepal" as the location. Through the GMAC website, you can also sign up for the GMAT.
You must fulfill the following requirements in order to take the GMAT:
The age of majority is 18 years old.
possess a current passport,
possess a bachelor's degree or one that is comparable
It's crucial to remember that business schools only consider the GMAT when deciding who gets into their programs. Your undergraduate GPA, work history, essays, letters of recommendation, and interviews may also be considered.
This article will give you all the information about the GMAT exam dates in 2022 and 2023. There is no fixed test date for the GMAT. You can choose from several available dates to decide when to appear for the GMAT exam. As the exam is conducted throughout the year, you can participate at your convenience. It is best to book the GMAT test date at least 1-2 months in advance. You can visit the official website for GMAT registration and book a slot for GMAT exam dates.
यस लेखमा, हामी तपाईलाई GMAT परीक्षा मिति २०२२ र २०२३ को बारेमा सबै जानकारी दिनेछौं। GMAT मा कुनै निर्धारित परीक्षा मिति हुदैन । तपाईंले धेरै उपलब्ध मितिहरूबाट छनौट गर्ने विकल्प पाउनुहुन्छ, जसको मतलब तपाईंले GMAT परीक्षाको लागि कहिले उपस्थित हुने निर्णय आफै गर्नुहुनेछ। परीक्षा वर्षभरिमा सञ्चालन हुने भएकाले तपाई आफ्नो सुविधा अनुसार परीक्षामा सहभागी हुन सक्नुहुन्छ। GMAT परीक्षाको मिति कम्तिमा 1-2 महिना पहिले बुक गर्नु राम्रो हुन्छ। GMAT दर्ताको लागि, तपाईंले आधिकारिक वेबसाइट भ्रमण गरी र GMAT परीक्षा मितिहरूको लागि स्लट बुक गर्न सकिन्छ।
Table of Contents
How to schedule GMAT?
This also means that you can choose when you want to start studying for the GMAT so that you have enough time to do so. You must sign up two months before the date you wish to take the GMAT test. First, check the GMAT test dates and see if the test is available on the date you want. To book a GMAT slot, do the following.
Step 1: Go to the website for GMAT.
Step 2: Choose a test site
Step 3: Choose the country you want to live in.
Step 4: Select a GMAT test center from the given list (you can select up to 3 test centers)
Step 5: Choose the date you want to take the GMAT.
MKS Test Preparation specialty
Physical & Online Class
We have online & Physical classes. You can take either one or both.
Class Recording
We record every class. You can access the class recordings from home.
Unlimited Class
You can access the class until you get desired score.
Best Instructors in Nepal
Our most experienced instructors have the best track record for the best score in Nepal.
Learning Management System Portal
Our LMS portal helps you to manage your whole study plan with tons of study material.
LMS Portal feature
यसको मतलब यो पनि हो कि तपाईले GMAT को लागी अध्ययन सुरु गर्न चाहेको बेला छनौट गर्न सक्नुहुन्छ ताकि तपाईसँग त्यसो गर्न पर्याप्त समय छ। यो सुझाव दिइएको छ कि तपाईले GMAT परीक्षा दिन चाहनु भएको मिति भन्दा दुई महिना अघि साइन अप गर्नुहोस्। पहिले, GMAT परीक्षण मितिहरू हेर्नुहोस् र हेर्नुहोस् कि तपाईंले चाहेको मितिमा परीक्षण उपलब्ध छ। GMAT स्लट बुक गर्न, निम्न गर्नुहोस्।
चरण 1: GMAT को लागी वेबसाइटमा जानुहोस्।
चरण 2: परीक्षण साइट छान्नुहोस्
चरण 3: तपाई बस्न चाहनु भएको देश छान्नुहोस्।
चरण 4: दिइएको सूचीबाट एउटा GMAT परीक्षण केन्द्र छनोट गर्नुहोस् (तपाईंले 3 परीक्षण केन्द्रहरू सम्म छनोट गर्न सक्नुहुन्छ)
चरण 5: तपाईंले GMAT लिन चाहनुभएको मिति छान्नुहोस्।
How to choose the date for the GMAT exam in 2022?
Candidates who want to take the GMAT should sign up at least two to three months before the GMAT date they want to take. Applicants can sign up six months ahead of time.
२०२२ मा GMAT परीक्षाको लागि मिति कसरी छनौट गर्ने?
GMAT लिन चाहने व्यक्तिहरूले GMAT मिति लिन चाहेको कम्तिमा दुई देखि तीन महिना अघि साइन अप गर्नुपर्छ। आवेदकहरूले समय अगाडी छ महिना सम्म साइन अप गर्न सक्छन्।
How to Choose When to Take the GMAT
Find out how long you need to study for the GMAT test in 2022.
Check the deadlines for admission to the graduate business school you want to attend.
Take the GMAT test 6 months before the business school application deadline.
You can sign up for your GMAT test online.
If you have to retake the GMAT test, stick to a schedule to have enough time to study and take the test.
Can I try the GMAT again?
A candidate can take the GMAT up to five times in 12 months. Also, you can take this test only eight times in your life.
The fee you put down for the exam is non-refundable, so be sure to schedule a time to be fully prepared to take it. In addition, rescheduling the test costs US$ 50.
एक उम्मेद्वारले रोलिंग 12-महिनाको अवधिमा यसलाई पाँच पटक सम्म GMAT लिन सक्छ । साथै, सम्पूर्ण जीवनमा 8 पटक मात्र यो परीक्षण दिन सक्नुहुन्छ।
तपाईंले परीक्षाको लागि तल राख्नुभएको शुल्क फिर्ता हुदैन, त्यसैले यसलाई लिनको लागि पूर्ण रूपमा तयार भै समयको लागि समय तालिका बनाउन निश्चित हुनुस । यस बाहेक, परीक्षणको पुन: तालिका बनाउन US$ 50 खर्च हुन्छ।
GMAT Cancellation Fee
If a candidate for the GMAT test in 2022 cancels more than seven days before the test, he/she will get a refund of US$50.
यदि 2022 मा GMAT परीक्षणको लागि उम्मेद्वारले परीक्षणको 7 दिन भन्दा बढी दिन आगाडी रद्द गर्दछ भने, उसले US$ 50 फिर्ता पाउनेछ।
GMAT reassessment fee
The GMAT test can be rescheduled. Up to 7 days before the exam, you can pay $100 to move it to another date. Also, you must pay $150 to reschedule your exam within seven days of the original date. On test day, you cannot change when you take the GMAT.
GMAT पुन: निर्धारण शुल्क
GMAT परीक्षण पुन: निर्धारित गर्न सकिन्छ। परीक्षा अघि 7 दिन अघि, तपाईंले यसलाई अर्को मितिमा सार्न $100 तिर्न सक्नुहुन्छ। साथै, तपाईंले मूल मितिको 7 दिन भित्र आफ्नो परीक्षा पुन: निर्धारित गर्न $150 तिर्नुपर्नेछ। परीक्षणको दिनमा, तपाईंले GMAT लिँदा परिवर्तन गर्न सक्नुहुन्न।
When is the best time to take the GMAT?
Although there is no ideal time to take the GMAT, you should have your score results when filling out your application. Candidates can take the GMAT 12 to 18 months before starting the application process.
GMAT लिने सबैभन्दा राम्रो समय कहिले हुनेछ?
GMAT लिनको लागि उपयुक्त समय नभए पनि, तपाईंले आफ्नो आवेदन भर्दा आफ्नो स्कोर नतिजाहरू तपाईंसँग हुनुपर्छ। उम्मेदवारहरूले आवेदन प्रक्रिया सुरु गरेको 12 देखि 18 महिना अघि नै GMAT लिन सक्छन्।
Add Your Heading Text Here
Can a GMAT test taker from one country take the test in another country?
If a person from one country wants to take the GMAT in another country, he/she must show a valid, unexpired passport. You must have a valid GMAT ID.
एक देशबाट GMAT परीक्षा लिनेले अर्को देशमा परीक्षा दिन सक्छ?
यदि एक देशको व्यक्तिले अर्को देशमा GMAT लिन चाहन्छ भने, उसले म्याद समाप्त नभएको वैध राहदानी देखाउनुपर्छ।तपाईंसँग GMAT ID सही हुनुपर्छ।
GMAT Date related FAQs
What is the maximum number of times I can take the GMAT?
You can take the GMAT exam once every 16 calendar days, but at most five times in a 12-month period.
What is the best time to register for the GMAT exam?
You should register for the GMAT exam at least two to three months before your intended test date, as slots can fill up quickly.
Do I have the option of rescheduling my GMAT test?
Yes, you can reschedule your GMAT exam date, but you may have to pay a fee depending on how far in advance you make the change.
Can I cancel my GMAT exam and get a refund?
You can cancel your GMAT exam, but you may receive a partial refund. The amount of the refund will depend on how far in advance you cancel.
What is the validity period of the GMAT exam?
The GMAT exam score is valid for five years.
Could you please let me know when I will be able to view my GMAT scores?
You can view your unofficial GMAT scores immediately after completing the exam. Official scores are available within 20 days of your test date.
Can I send my GMAT scores to more than one school?
Yes, you can send your GMAT scores to up to five schools for free when you take the exam. After that, you will have to pay a fee for each additional score report.
8. How long is the GMAT exam?
The GMAT exam is a computer adaptive test that takes approximately 3.5 hours to complete, including breaks.
9. How many breaks are allowed during the GMAT exam?
You are allowed two optional 8-minute breaks during the GMAT exam. The first break comes after the Integrated Reasoning section, and the second break comes after the Quantitative section.
10. Can I take the GMAT exam online from home?
Yes, you can take the GMAT Online exam from home. The online format is identical to the test center format and has the same sections, timing, and number of questions. However, some additional requirements and restrictions exist for taking the online exam.
11. How is the GMAT exam scored?
The GMAT exam is scored on a scale of 200-800, with increments of 10 points. Scores are calculated based on the number of questions answered correctly, the difficulty of those questions, and the number of questions answered in each section.
12. How long does it take to receive official GMAT scores?
Official GMAT scores are available within 20 days of your test date. However, it can take longer for the scores to be sent to schools, depending on the schools' processing times.
13. Can I change the schools to which I have sent my GMAT scores?
No, you cannot change the schools to which you have sent your GMAT scores once they have been sent. You will need to pay a fee to send additional score reports to other schools.
14. How long does it take to prepare for the GMAT exam?
The time needed to prepare for the GMAT exam can vary depending on factors such as prior knowledge, study habits, and test-taking skills. However, most test takers spend at least two to three months preparing for the exam.
15. Can I use a calculator during the GMAT exam?
No, you are not allowed to use a calculator during the GMAT exam. However, an online calculator is provided on the exam for certain questions.
16. Can I bring food and drink to the GMAT test center?
No, you cannot bring food or drink into the GMAT test center. However, you can bring a snack and drink for optional breaks.
17. Can I take the GMAT exam outside of my home country?
Yes, the GMAT exam is administered in many countries around the world. You can check the official GMAT website for a list of test centers and countries offering the exam.
18. Can I retake only one section of the GMAT exam?
You can only retake one section of the GMAT exam. You must retake the entire exam if you wish to improve your score.
19. Can I request a re-evaluation of my GMAT scores?
Yes, you can request a score review for a fee within 30 days of receiving your official scores. However, the likelihood of a score change is rare.
MKS is a true blessing for them who want to pursue for abroad study. It is a great institute for Ielts and SAT course.
The faculty is very friendly and understanding. This is a very good Institute for the students studying SAT.
I studied SAT and it was indeed a great learning experience. I recommend MKS to everyone who's preparing for SAT
Sat classes are super effective even in on-line. Great teachers and plenty of necessary resources are provided as well. Definitely one of the best institutions for sat preparation.
Mks preparation classes offers a unique and personalized approach to help students achieve their goals. Teachers are experienced and friendlyy. Their way of teaching is just fabulous. Teachers not only focus on talent students but also motivate and guide the lagging one. This personalized attention allows for a more targeted and efficient preparation, focusing on the specific areas that require improvement. Additonaly, Mks preparation offers flexible scheduling options, accommodating the busy lives of students and ensuring that they can receive the support they need when it suits them best. Furthermore, as an experienced teachers, they have in-depth knowledge of the exam format, content, and scoring, enabling us to provide invaluable insights and strategies to boost students' performance. With their expert guidance and support, students can feel more confident and motivated to reach their full potential on the respective exam. You must visit here at least once if u have a dream to study abroad in top unis 🙂
Best consultancy for SAT prep classes in putalisadak. Teachers are great and friendly which helps us to encounter each and every hard questions ❤️
Pranaya Poudel
2023-09-03
I recently completed an SAT prep course with MKS, and it exceeded my expectations in every way. The instructors were incredibly knowledgeable and taught effective test-taking strategies. The small class size allowed for personalized attention, and the regular practice tests were instrumental in my progress. Thanks to this course, I feel well-prepared and confident for the SAT. 5 stars!
MKSprep Consultancy's IELTS class exceeded my expectations in every way. The instructors were not only highly knowledgeable about the test format and requirements, but also incredibly skilled at conveying the material in a clear and engaging manner. The personalized attention I received during the course helped me identify and work on my weak points, leading to a significant improvement in my overall score. The class materials were comprehensive and up-to-date, and the practice tests were invaluable in building my confidence for the actual exam. I highly recommend MKSprep to anyone looking to excel in their IELTS preparation."
Study material is A-one and even teachers ❤️ Thank you MKS prep
The Knockout Op
2023-08-24
Good
GMAT Quantitative Free Resources
GMAT Verbal Free Resources
We are sorry that this post was not useful for you!
Let us improve this post!
Tell us how we can improve this post?