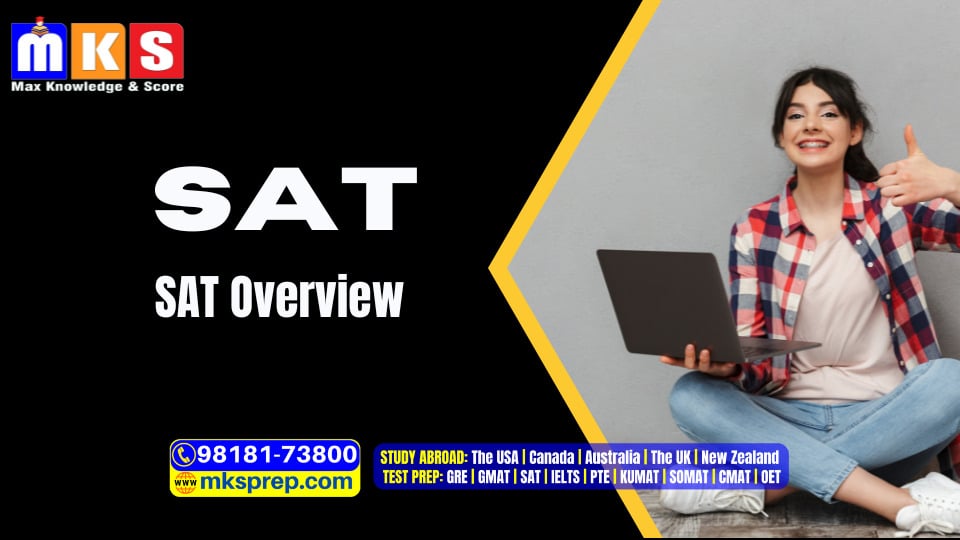 SAT Overview for Nepal – Dates, Registration, Fee, Format, Eligibility, Criteria
Apply for the course; we will call you back soon.
SAT Overview for Nepal
Students applying to undergraduate colleges must take the SAT, a standardized test administered by the College Board.
The Scholastic Assessment Test, formerly known as the Scholastic Aptitude Test, is the SAT Exam full form.
The SAT exam was created to assess candidates' written, verbal, and mathematical abilities.
Applicants who want to study college courses, especially in the United States and Canada, must take the SAT exam.
If a student wants to get into a specific course, they can take the SAT Subject tests to demonstrate their knowledge and mastery of that subject. Subject tests are available in Literature, History, Mathematics, Science, and Foreign Languages, among other subjects.
SAT Overview
SAT exam full form: Scholastic Assessment Test
Accepted by: Undergraduate courses in the US and Canada. Also, in The United Kingdom and Australia
Conducted by: The College Board (Written-based examination)
Address: The College Board National Office
250 Vesey Street
New York, NY 10281
Phone: 212-713-8000
SAT Fee: $101 (NRS 12000 Approx.)
Why do people choose to take the SAT?
The SAT is taken by students who want to enrol in undergraduate programs in the United States.
Most universities in the United States require the SAT for entrance to undergraduate courses.
Aside from that, many colleges award students SAT scholarship money based on their SAT scores.
What is SAT eligibility criteria for students?
The College Board, which runs the SAT, has not established any precise SAT eligibility criteria for students who wish to take the exam.
Minimum Age to Take the SAT
Candidates should be aware that there is no minimum or maximum age limit for students who wish to take the exam.
According to surveys, students between the ages of 17 and 19 are most likely to take the SAT.
Can you take the SAT examinations many times?
The College Board does not impose any restrictions on students taking the SAT exam, so they can take it as many times as they wish.
In Nepal, the SAT is given five times a year. March, May, August, October, and December are the most common months for the test.
What are the educational requirements for taking the SAT?
The College Board, which administers and controls the SAT exam, has not established any explicit eligibility criteria.
Students in high school, on the other hand, can take it.
Students who want to apply for undergraduate studies abroad must have completed high school and move on to the next level of their studies.
What skills are tested on the SAT Exam?
The SAT exam evaluates a candidate's mathematical, critical reading, and writing abilities.
According to the College Board, they measure the skills that students have mastered in school. They assess the abilities necessary for college students to succeed academically.
Registration for SAT 2022
Students who wish to take the SAT must first register for the Test.
The SAT is an important exam for students who desire to pursue their bachelor's degree in one of the top study abroad nations, such as the United States or Canada.
Students can register for the SAT using either the traditional mail-in technique or the more convenient online alternative.
Candidates using the online approach must first create a login id on the official SAT website before registering.
Online registration is available (Steps)
1. Go to the official College Board website.
2. Register for an account.
3. Fill out all of the relevant fields.
4. Decide the exam you want to take and where you want to take it.
5. Take a clear snapshot and upload it.
5. Make a payment for the application cost.
Mail-in Registration (Steps)
1. You will need a copy of 'The Student Registration Guide for the SAT and SAT Subject Tests,' which can be found in schools.
2. A registration form and a return envelope are included in the booklet.
3. A demand draught must accompany the form.
4. The USIEF is SAT's local representative in India. Their regional office will receive the mailed paperwork.
SAT Slot Reservations
Because each certified SAT Test Center has limited seats, candidates are advised to reserve their SAT exam slot in advance to minimize any additional difficulty.
How do I reschedule my SAT Exam?
Candidates should be aware that they will not be eligible for a full refund if they cancel their SAT Tests early.
Candidates who have enrolled on the test and are compelled to cancel it will be eligible for a $10 refund if they cancel five days before the exam.
How do I reschedule or postpone my SAT exam?
Candidates must pay an additional $30 to modify their SAT test date. They must log onto their SAT account and submit a request for a change of date.
Admission Ticket for the SAT
The candidate must log in to his account on the official website and download the SAT Admission Ticket once he has successfully registered for the exam.
The candidate must double-check the credentials on the admittance ticket and correct any errors as soon as possible.
| Category | Price in Dollar | Price in NRS approx. |
| --- | --- | --- |
| The application fee for the SAT Test | $104 | NRS 12,000 |
| Late Registration Fee | $30 | NRS 3,500 |
| Changing the date | test center Fee | $35 | NRS 4,100 |
| Waitlist Fee | $53 | NRS 6,300 |
| Register by Phone | $15 | NRS 1,700 |
Exam Fees for the SAT
Candidates who want to take the SAT must pay a fee. Candidates can review the SAT Fees in detail by clicking on the link below.
• The SAT exam alone costs $52 plus a non-US regional charge. For students taking the SAT in Nepal, the non-US regional fee is $49, making the total SAT fee $101 (NRS 12000 approx).
• The SAT exam with Essay is $68 plus a non-US regional charge. So, for the SAT exam with Essay, the total charge is $68 + $49 = $117 (NRS 14000 Approx).
• Candidates must pay an extra $26 as an essential subject test cost for topic tests.
• An extra cost may be necessary for SAT subject examinations.
| | | | | |
| --- | --- | --- | --- | --- |
| No. | SAT Test centre in Kathmandu, Nepal | Center Adress | Center Code | Phone number |
| 1 | St.Xavier's SCH | Patan, Lalitpur, Nepal | 74625 | |
| 2 | Rato Bangla School | Patan dhoka, Lalitpur, Nepal | 74627 | |
| 3 | ULLENS SCH | Sheetal Marg, Khumaltar, Lalitpur, Nepal | 74622 | |
| 4 | Trinity Intel. College | Dillibazar, Kathmandu, Nepal | 74619 | |
| 5 | Kathmandu Intel. Study Centere | Kathmandu, Nepal | 74618 | |
| Price in NRS Approx. | Price in Dollar | Price in NRS Aprox. |
| --- | --- | --- |
| The application fee for the SAT Test | $104 | NRS 12,000 |
| Late Registration Fee | $30 | NRS 3,500 |
| Changing the date | test center Fee | $35 | NRS 4,100 |
| Waitlist Fee | $53 | NRS 6,300 |
| Register by Phone | $15 | NRS 1,700 |
Canceling your SAT is a bad idea. Because registration is costly, students are recommended to request a date modification rather than canceling the exam entirely.
Candidates should be aware that registrations cannot be reimbursed beyond five days before the test date, and candidates will only be refunded $10 regardless of whether they took the SAT or the SAT with Essay.
Fees for SAT rescheduling
Candidates who want to modify their SAT Test Center or SAT Test Date, or switch between the SAT and SAT Subject Tests or vice versa, must pay an additional $30. Rescheduling fees are shown below for candidates' convenience:
Change of Date/Test Center Fee: $30
The fee for late registration is $30.
Phone Registration is $15.
$53 for those on the waiting list
How can I acquire a fee waiver for the SAT?
SAT Fee Waiver is available to students in the 11th and 12th grades who live in the United States or its territories.
Citizens of the United States who live outside the nation may also be eligible for a fee waiver.
Fee waivers for the SAT Subject Test are available for grades 9-12.
Best SAT preparation classes in Kathmandu, Nepal
MKSprep's best instructor in town with online LMS support is the best SAT preparation class in Kathmandu, Nepal.
MKSprep's highlights
1. Highly experienced and score oriented Instructors
2. Online LMS support
3. Interactive Slides for each topic.
4. Time-bound section test
5. Time-bound random test
6. MKSprep's SAT Books
7. Full-length test – 25
9. Video lecture for each topic
10. Managed e-library
SAT date for Nepal in 2022
Candidates who wish to take the SAT must first register for the Test.
Candidates are aware that there are two SATs: SAT General and SAT Subject Tests.
Candidates should register for their SAT exam before the SAT registration deadline to avoid any last-minute stress.
The dates for the SAT General Test and the SAT Subject Test are listed in the table below.
| SAT Test Date | Registration Deadline | Late Registration Deadline | Score Release |
| --- | --- | --- | --- |
| August 27, 2022 | July 30, 2022 | August 13, 2022 | September 9, 2022 |
| October 1, 2022 | September 3, 2022 | September 17, 2022 | October 14, 2022 |
When is the most appropriate time to take the SAT exam?
The SAT test is given at various times throughout the year.
To prevent making a last-minute mistake, students should schedule their SAT exam three to four months before their application deadline.
Candidates can choose from four SAT Test Centers in Nepal
Syllabus for SAT 2022
The SAT syllabus comprises classes that students have already covered in school. So, if you excelled in school, you should have no trouble preparing for the SAT Syllabus.
The following items are included in the syllabus:
Section on Writing
• There are three portions to the SAT writing test.
• 25 minutes for the essay section
• 25-minute and 10-minute multiple-choice sections
The section on Critical Reading
• There are three critical reading portions on the SAT.
• 25 minutes of reading comprehension
• 25 minutes for sentence completion
• 20 minutes for a paragraph-length critical reading
Section on Mathematics
• The SAT has three math sections.
• 25 minutes of algebra and functions
• Statistics of Geometry – 20 minutes
• 20 minutes of probability and data analysis
Exam Pattern for the SAT
Math, Evidence-Based Reading, and Writing are the three primary sections of the SAT exam. There is also a 50-minute essay option. After factoring in the essay, the overall testing time is 3 hours and 50 minutes.
There are 154 questions in all (155 with essay)
Time allotted: 3 hours, plus 50 minutes for the essay (optional)
Total Points: 1600
SAT Test Scores
Reading, Writing, and Mathematics are the two main sections of the SAT.
These two sections are graded on 200 to 800 points, with a total score of 1600 possible.
On a scale of 200 to 800, SAT Subject Test results are calculated. A 20-80 scale is used to provide extra subscores.
A student's scores represent how well they performed compared to other pupils who took the test.
What Is a Good SAT Score for Colleges?
An SAT score of 1000 is considered typical. An SAT score of above 1200 is deemed to be good. On the SAT, the perfect score of 1600 is the highest that someone can achieve.
Because you will be given scaled scores, you should be familiar with SAT scaled scores and percentiles.
What Is the Best Way to Send SAT Scores to Colleges?
The scores can be sent to colleges in two ways: while registering for the test or after the official results are released.
Candidates who register for the SAT receive four free Score Reports. Candidates can send their scores to colleges for free for the first nine days after taking the test, after which they must pay $12 for each university/program they pick.
Fee waivers are available during the reporting of SAT scores to colleges.
The College Board offers SAT price waivers/scholarships to economically disadvantaged sections and low-income students. It lets students transmit their SAT scores to as many institutions as they like for free. However, due to recent revisions, eligibility has changed.
You can contact a College Board representative or read about the criteria on their website before applying.
A Step-by-Step Guide to Sending SAT Scores
1. To begin, log in to your College Board account.
2. Select 'Send Scores' from the drop-down menu. Select 'Send Scores' from the drop-down menu.
3. Select 'Send Available Scores Now' (to send results right away) or 'Send Scores When Available' (to send scores later) (if scores are yet to be declared or you are yet to sit for the exam)
4. Add recipients by selecting colleges from your shortlist. You can look them up by name or state.
5. Double-check all recipients' and personal information, and then pay the final sum.
Validity Period for SAT Scores
The SAT scores are valid for five years until the SAT criteria change. Candidates rarely use their SAT scores for more than five years.
They usually take new tests and then apply to the institutions of their choice. Students can also get an additional copy of their scorecards for $ 9 to send to other colleges (NRS 1070 approx).
Verification of SAT Scores
SAT Score Verification is just a re-evaluation of your test results to ensure that you received scores in all parts and that nothing was missed.
If you believe your SAT score differs from what you expected, you may have overlooked or made a mistake when marking your answers.
Another explanation for a lower SAT score than anticipated is if your essay is illegible or blank when viewed online. You have three choices for SAT score verification:
• Hand score verification with many choices
• Verification of essay grades
• Or a combination of both multiple-choice and essay scores
You can make this request by filling out an SAT score verification form within five months of the test date.
Before proceeding, it is recommended that you carefully read the instructions on the form.
You'll also have to pay a fee to get your score verified. This score verification charge will be waived for students who have a fee waiver.
Once you pay the verification fee and submit your form, you will receive a letter with the new and confirmed findings within five weeks.
The verification fee will be returned if the SAT scores change after verification due to inconsistency in the scoring or scanning procedure.
Cancellation of SAT Scores
If you need to cancel your SAT score for whatever reason, there are two options to do so:
1. At the exam center: If you're not sure how the test went or if you think you missed a few questions, you can cancel your test right there and then. You can ask the supervisor for a 'Request to Cancel Exam Scores' form right then and there at the test center. Along with your signature, fill in all of the details. Return the completed form to the supervisor. Before leaving the testing center, make sure you submit this.
2. At home: You can also cancel your test if your poor performance strikes after leaving the testing center. It does, however, have a time limit. You must send your cancellation request to College Board as soon as possible, as the deadline for receiving such requests is 11:59 p.m. (IST) on the Wednesday following the test day. You must fill out the 'Request to Cancel Test Scores' form on the College Board website, sign it, fax it or send it overnight through speed-post/courier.
The following are the details for Fax and Overnight Mail:
• Phone: (610) 290-8978; Fax: (610) 290-8978
• SAT Score Cancellation, P.O. Box 6228, Princeton, NJ 08541-6228 (U.S. only): Overnight U.S. Postal Service Express Mail
• the U.S. or worldwide overnight mail service or courier: SAT Score Cancellation, 1425 Lower Ferry Road, Ewing, NJ 08618, USA
Cut-off for the SAT
The College Board does not have an SAT cut-off for students who desire to apply to universities in other countries after taking the SAT.
There are no hard and fast SAT cut-offs for elite colleges and universities; candidates must fall within a specified range to be considered for admission. Exceptions would be made in exceptional circumstances.
Accepting Countries for SAT Scores
For international students, each country has its unique set of standards. The SAT Exam is accepted by many institutions throughout the world. It is most commonly used in undergraduate courses in the United States and Canada. Some universities in the United Kingdom and Australia recognize it as well. See which countries accept SAT scores.
Acceptance of SAT Scores by Colleges
As previously stated, undergraduate aspirants who wish to enroll in universities abroad must take the SAT Test.
Tips for SAT 2022 Preparation:
Candidates who do well on the SAT are likely to be skilled readers with a large vocabulary.
They can also handle the stress of completing questions in a shorter amount of time because the test has many portions.
In terms of general preparation, the SAT is similar to other examinations in that students can choose to self-study or attend coaching programs.
You'll need motivation and self-discipline to stay on track with your self-study program. This strategy will undoubtedly save you a great deal of time and money.
On the other hand, attending coaching classes is not a bad deal if you believe you learn best in a classroom setting.
Remember that there is no right or incorrect way to learn; there is no right or wrong way to study.
Test Centers for the SAT
Students should always book a Sat Testing Center that is the most convenient and closest to their area. View the complete list of SAT Test Centers here to find the SAT test centre closest to you.
Exam Day Advice for the SAT
It's generally a good idea to arrive at your exam center early. It allows you to unwind and prepare for the exam ahead. Having some extra time on your hands can also help you deal with worry and stress before entering the test room.
Aspirants who plan to take the exam can use SAT Exam Day Tips to help them prepare.
Important SAT-related FAQs
Do you have any additional questions about the SAT exam? Check out the SAT FAQs for more information.
MKS Test Preparation specialty
Physical & Online Class
We have online & Physical classes. You can take either one or both.
Class Recording
We record every class. You can access the class recordings from home.
Unlimited Class
You can access the class until you get desired score.
Best Instructors in Nepal
Our most experienced instructors have the best track record for the best score in Nepal.
Learning Management System Portal
Our LMS portal helps you to manage your whole study plan with tons of study material.
LMS Portal feature
MKS instructors
Verbal Instructor
Mr. Bijay Shivakotee
Nepal's Most experienced and score-oriented instructor is himself an American college graduate. He has been a full-time GRE | GMAT | SAT | Language proficiency test instructor since 2000.
Quantitative Instructor
Mr. Manoj K. Singh
Highly experienced and score-oriented Instructor. To address students' needs and make Tests easy, he developed  Learning Management System (LMS), which managed students' overall study.