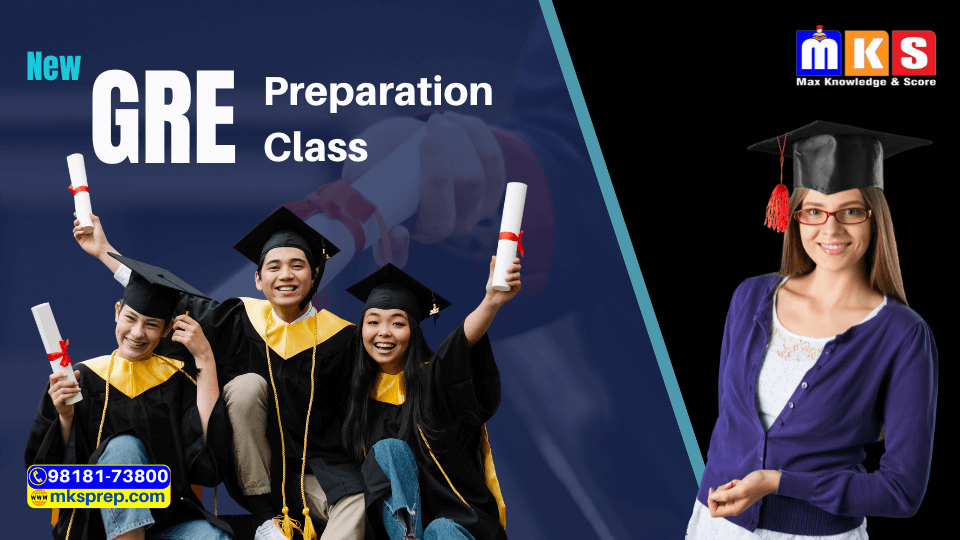 GRE in Nepal. (Best Online & physical GRE Preparation & Coaching Center in Nepal)
Apply for the course; we will call you back soon.
This content is helpful for
GRE in Nepal. Physical & Online Class
GRE in Nepal at MKSprep
MKSprep stands out as Nepal's premier test prep center, renowned for its exceptional teaching methodologies and comprehensive support aimed at helping students excel in their careers. As the industry's largest and most reputable institution, MKSprep offers the best GRE classes in Nepal, led by highly experienced instructors dedicated to ensuring students achieve top GRE scores.
MKSprep is recognized as Nepal's finest GRE preparation center due to the extensive practice materials provided to students and the adoption of advanced technology to enhance their success. All the crucial factors mentioned earlier are part of our approach, which reflects in our impressive 5-star Google rating, showcasing high student satisfaction.
Choose MKSprep for your GRE preparation and experience the difference of a top-quality, student-focused program in Nepal.
GRE Class feedback for MKSprep
Find out what we have for GRE Class
Graduate Record Examination (GRE) is among the Education Testing Service (ETS) 's most significant evaluation programs. From greater than 160 nations, over 150 thousand college students take GRE for or higher study. ETS has set up over 10 thousand test facilities everywhere in the world. GRE scores will get admission to Master's and PhD. of Science, law, administration, and different programs, worldwide. Hundreds of companies accept GRE scores everywhere in the world.
Discover the Best GRE Classes at MKSprep: Physical, Online, and Hybrid Learning Options
Are you preparing for the GRE and looking for the perfect coaching solution? Look no further! MKSprep offers the best GRE classes to suit your learning style, providing Physical, Online, and Hybrid Class options to cater to every student's needs. With our experienced instructors, extensive learning resources, and state-of-the-art LMS support, you'll be well-prepared to achieve your desired GRE score.
Physical | Online Class
Explore flexible GRE prep options with our online, physical, and hybrid classes. Choose one or combine both formats for a tailored learning experience designed to boost your GRE success.
Class Recording
Access our recorded GRE classes anytime, anywhere. Review course content at your convenience to reinforce learning and enhance your test preparation experience.
Unlimited Class
Achieve your target score with ongoing access to our GRE classes, even after course completion. Continue attending classes until you reach your desired performance level for optimal success.
Experienced Instructors
Learn from our highly experienced instructors with proven track records for achieving the best GRE scores in Nepal, ensuring you receive the highest quality test preparation for success.
Digital Mock Test
Weekly comprehensive full-length tests, daily half-length tests, and an extensive collection of over 300 section-wise tests. These meticulously designed assessments closely mirror the format and complexity of real GRE tests.
LMS Portal Support
Comprehensive GRE LMS Portal Efficiently manage your SAT study plan using our feature-rich LMS portal, packed with abundant study materials designed to enhance your learning experience and test preparation.
New GRE Test Format
Section
Number of Questions
Time Duration
Score Range
Analytical Writing
1 – Questions
(Analyse an issue)
30 – Minutes
0-6
Quantitative Reasoning
27 – Questions
(QR Section 1 – 12 question)
(QR Section 2 – 15 question)
47 – Minutes
(QR Section 1 – 21 minutes)
(QR Section 1 – 26 minutes)
130-170
Verbal Reasoning
27 – Questions
(VR Section 1 – 12 question)
(VR Section 2 – 15 question)
41 – Minutes
(QR Section 1 – 18 minutes)
(QR Section 1 – 23 minutes)
130-170
Total
55 – Questions
118 – Minutes
340
Class Modes to Suit Your Learning Style
At MKSprep, we understand that every student has unique learning preferences. That's why we offer three different class modes to cater to your individual needs:
Physical Classes: For those who prefer in-person learning, our Physical Classes provide an interactive classroom environment with direct engagement with our experienced instructors.
Online Classes: If you're unable to attend physical classes or prefer the convenience of learning from home, our Online Classes offer live virtual sessions with the same high-quality instruction.
Hybrid Classes: Can't decide between physical and online classes? Our Hybrid Classes offer the best of both worlds, allowing you to attend some sessions in person and others online.
Exceptional Features to Enhance Your Learning Experience
MKSprep's GRE classes are designed to provide you with comprehensive support and resources throughout your preparation journey. Our unique features include the following:
Class Recording: Access recorded sessions anytime to review lessons and clarify concepts at your own pace.
Unlimited Classes: Enjoy the flexibility of attending as many classes as you need to strengthen your understanding and build confidence.
Experienced Instructors: Learn from the best in the industry, with our instructors boasting years of experience in GRE preparation and impressive track records.
LMS Support: Utilize our advanced Learning Management System (LMS) to access a wide range of study materials and resources.
Comprehensive LMS Resources for All-Around GRE Preparation
MKSprep's LMS provides a wealth of resources to help you thoroughly prepare for the GRE:
10 Full-Length Tests: Simulate the real GRE experience with our full-length tests designed to familiarize you with the exam format and sharpen your test-taking skills.
200+ Section-Wise Tests: Master each section of the GRE by practicing with our extensive collection of section-wise tests.
PPTs on Each Topic: Gain a solid understanding of every GRE topic with our comprehensive PowerPoint presentations.
Extended Concepts on Each Topic: Dive deeper into the subject matter with our in-depth explanations and examples.
PDF Practice Questions on Each Topic: Reinforce your learning by practicing with our topic-wise PDF question sets.
Hard-Copy Books: Receive a set of high-quality hard-copy books to supplement your online resources.
Best Instructors: Benefit from the expertise and guidance of our top-rated instructors, who are committed to helping you succeed.
Enroll in MKSprep's GRE classes today and embark on a journey toward achieving your dream GRE score. Our unmatched teaching methods, experienced instructors, and extensive learning resources will provide you with the ultimate GRE preparation experience. Take advantage of the opportunity to join the ranks of our successful students!
What is with us that others do not have?
Thousands of students take the GRE from Nepal yearly from different backgrounds like engineering, medicine, literature, IT, etc. Students can take the GRE test after completing a bachelor's degree for a master's in the USA and Canada or after a master's for a doctorate program.
GRE preparation institutes
MKSprep: The Leading Test Prep Center for GRE Preparation in Nepal
In a landscape where Nepal has limited options for GRE preparation, MKSprep stands out as the top choice for students seeking effective and up-to-date guidance. While many test prep centers in Nepal may need to be updated or need more qualified staff, research, and proper management, we excel in delivering the best resources and support for GRE success.
Before committing to any test prep center, thorough research is essential. At MKSprep, we are proud to be one of Nepal's few institutes that consistently provide high-quality GRE preparation.
As Nepal's only test prep center offering a comprehensive LMS Portal, MKSprep provides the following:
More than 200 time-bound tests.
Interactive PPTs for each topic.
PDF practice materials complete with solutions.
Additionally, our students benefit from video lectures, unlimited access to physical, online, and hybrid classes, and recorded sessions to review at their convenience.
Choose MKSprep and experience the difference in our cutting-edge approach to GRE preparation in Nepal.
GRE Instructors in MKSprep
The Importance of Experienced Instructors for GRE Preparation
Selecting the right GRE institute requires carefully considering the instructors' experience and qualifications. Given the technical nature of the GRE, it is vital to choose instructors with proven expertise in the field. Some institutions may employ fresh graduates to teach GRE courses, prioritizing revenue over quality. To ensure you receive the best education possible, research the instructors' profiles and verify their experience in the field.
At MKSprep, our instructors are highly experienced and dedicated to helping students achieve top scores on the GRE:
Verbal Instructor
Mr. Bijay Shivakotee As Nepal's foremost GRE, GMAT, SAT, and language proficiency test instructor, Mr. Shivakotee is an American college graduate with an unrivaled score-oriented approach. He has been a full-time instructor since 2000, ensuring students receive expert guidance in their test preparation.
Quantitative Instructor
Mr. Manoj K. Singh Mr. Singh is a highly experienced and score-focused instructor who prioritizes students' needs. To simplify the testing process and address students' requirements, he developed a Learning Management System (LMS) to streamline their overall study experience.
By choosing MKSprep, you can trust that our experienced instructors will provide the exceptional guidance and support needed for success on the GRE.
Online practice materials
GRE is an online test, so hard copy practice materials do not work to crack GRE, so institutions must have online practice materials as a time-bound test for each section.
GRE Time Bound Test
The Importance of Time-Bound GRE Practice Tests for Effective Preparation
While practicing from PDFs or hard copies can be helpful, you may need more preparation for the actual GRE exam experience. Time-bound online tests, designed to mimic the real GRE, are crucial for developing efficient time management skills and reducing anxiety on test day. Here's why institutions should include online time-bound tests as part of their GRE preparation.
Some benifits for time bound Test
Realistic Test Environment: Time-bound tests simulate the actual GRE exam conditions, helping students become familiar with the testing format, pacing, and overall experience.
Improved Time Management: By practicing with timed tests, students learn to allocate their time efficiently, ensuring they can complete all sections within the allotted timeframe.
Reduced Test Anxiety: Familiarity with the test format and time constraints helps to minimize stress and anxiety on test day, allowing students to perform at their best.
Performance Assessment: Time-bound tests offer students an opportunity to evaluate their performance under pressure, identify areas of improvement, and adjust their study strategies accordingly.
Confidence Building: Regularly completing timed tests helps students build confidence in their abilities and better understand their strengths and weaknesses.
Incorporating online time-bound tests into GRE preparation programs is essential for institutions to help students develop the necessary skills and mindset to excel on the exam.
Instructors
Students feedbacks
Most institutes hide their feedback from students. It would be best if you analyzed student feedback and their ratings. You may see their review and rating on Google and Facebook.
Post-class support

Post-Class Support: A Crucial Element for GRE Success
A comprehensive GRE preparation plan should include post-class support, an often overlooked but essential aspect of test preparation. Many institutes do not offer structured post-class plans, making it difficult for students to continue their progress outside the classroom.
MKSprep understands the importance of post-class support and offers its own Learning Management System (LMS) to provide students with a practical and organized post-class plan. This comprehensive platform ensures students have access to valuable resources, such as:
Practice Tests: Regularly updated time-bound tests to help students gauge their progress and improve their time management skills.
Study Materials: Access various study resources, including video lectures, interactive presentations, and PDF practice materials with solutions.
Personalized Feedback: Constructive feedback from experienced instructors tailored to each student's specific needs and areas for improvement.
Progress Tracking: Tools to monitor and track performance over time, helping students identify their strengths and weaknesses.
Community Support: Access an online community where students can connect with their peers, share experiences, and discuss study strategies.
By choosing MKSprep, you can trust that our comprehensive post-class support will help you stay on track and maximize your potential for GRE success.
Conclusion
In conclusion, selecting the right GRE institute in Nepal requires careful consideration of various factors, including experienced instructors, comprehensive course materials, personalized learning, flexible class options, and robust post-class support. MKSprep stands out as a top choice for GRE preparation, providing exceptional guidance from highly experienced instructors, a wide range of study materials, and access to a cutting-edge Learning Management System.
By choosing MKSprep, students gain a competitive edge in their GRE preparation journey, benefiting from expert instruction, valuable resources, and ongoing support to ensure success on this critical exam. Don't leave your future to chance—join MKSprep and experience the difference of a comprehensive, student-focused approach to GRE preparation in Nepal.
Eligibility criteria for GRE
Anybody can register for a test with any age and Qualification; however, she/he should have a legitimate passport.
Age Criteria for GRE
ETS has not revealed any age and qualification standards; nevertheless, candidates are supposed to own for graduate and post-graduate programs in any discipline.
Register for the GRE:
For online registration, students ought to follow the steps.
1. Create ETS accounts on ETS official web page.
2. Choose the required test format, both GRE General or GRE Subject Test.
3. Choose to convince the date and test center close to you.
4. Entry your academic particulars on the form.
5. Pay the registration payment by international card or the bank that proceeds online costs for you.
Note: all data you've crammed within the form should match your passport's data.
GRE score report
Candidates obtain a link on their registered E-mail ID from ETS.
GRE scores valid
GRE scores are legitimate for five years.
GRE Exam Pattern
AWA section
You'll have to write an essay – An analysis of an argument. Your essay ought to critique an argument introduced to you.
Scoring Range: 0 to 6 in intervals of 0.5
Competitive Score: 5 and above.
Time: 30-minute

Quantitative Reasoning
Scoring Range: 130 to 170
Duration: 27 minutes for each section total of 47 minutes.
Type of Question in GRE Quantitative Section
Multiple choice
Multiple Select
Number Entries
Quantity Comparision
Verbal Reasoning
Verbal Reasoning is one of the sections in the GRE.There are two sections in verbal reasoning in GRE Test.
Verbal reasoning tests verbal reasoning ability
Scoring Range: 130 to 170
Duration: 30 minutes for each section total of 60 minutes.
Order of GRE Test
The GRE (Graduate Record Examinations) has three main sections: Analytical Writing, Verbal Reasoning, and Quantitative Reasoning. The order of the tests is as follows:
Analytical Writing: This section always comes first. It consists of one task, requiring you to analyze an issue. You are allowed 30 minutes for the task.
Verbal Reasoning: You will have two Verbal Reasoning sections after the Analytical Writing section. The first section consists of 12 questions, and the second section has 15 questions, and you will be given 18 min for the first section and 23 minutes for the second section.
Quantitative Reasoning: After the Verbal Reasoning section, you will have two Quantitative Reasoning sections. The first section consists of 12 questions, and the second section has 15 questions, and you will be given 21 min for the first section and 26 minutes for the second section
GRE Useful link
GRE Dates. | GRE Official Page | GRE LMS Portal | GRE ETS page | GRE Official Page
We are sorry that this post was not useful for you!
Let us improve this post!
Tell us how we can improve this post?