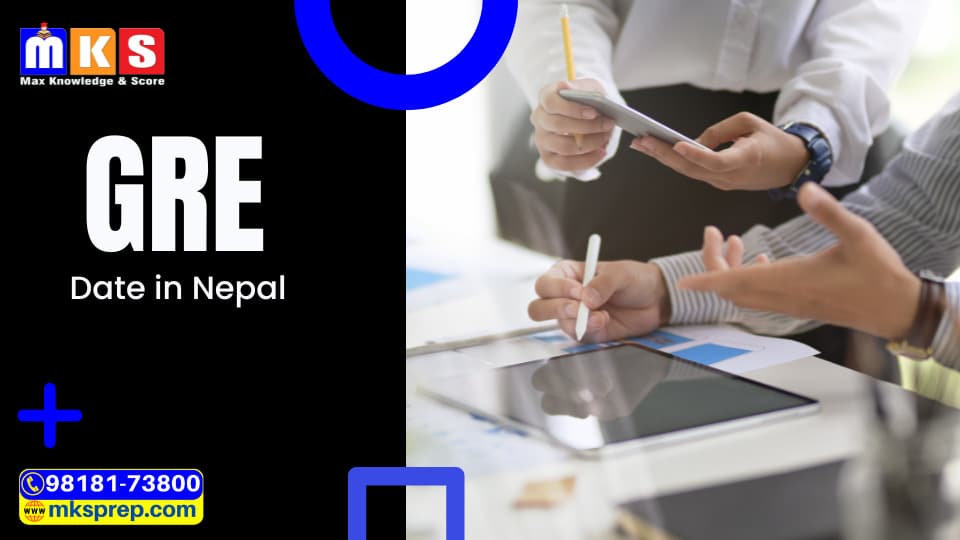 GRE Exam Dates in Nepal (2023)
Please apply for the course; we will call you back soon.
This content is helpful for
GRE Exam Dates in Nepal
January 09, 2023 – Monday
January 12, 2023 – Thursday
January 14, 2023 – Saturday
January 18, 2023 -Wednesday
January 23, 2023 – Monday
January 26, 2023 -Thursday
February 07, 2023 – Tuesday
February 10,2023-Friday
February 14, 2023 – Tuesday
February 15,2023-Wednesday
February 16, 2023 – Thursday
February 18, 2023 – Saturday
February 21, 2023 – Tuesday
February 23, 2023 – Thursday
March 06, 2023 – Monday
March 09, 2023 – Thursday
March 12, 2023-Sunday
March 17, 2023-Friday
March 28, 2023 – Tuesday
April 05,2023-Wednesday
April 08, 2023-Saturday
April 13,2023-Thursday
April 19,2023- Wednesday
April 22, 2023 – Saturday
April 25, 2023- Tuesday
April 27, 2023- Thursday
https://ereg.ets.org/ereg/public/testcenter/availability/seats
Watch the Instruction video; how to take GRE Date in Nepal
GRE Exam Dates in Nepal 2022. These dates are copied from the ETS official's website; when the dates are closer, some will be packed, and some dates will be added, so please check these dates with the official website link below the post.
२०२२ नेपाल मा GRE Test मितिहरू। यी मितिहरू ETS आधिकारिक वेबसाइटबाट प्रतिलिपि गरिएका छन्, जब मितिहरू नजिक हुन्छन् तिनीहरूमध्ये केही प्याक गरिनेछ र केही मितिहरू थपिनेछन् त्यसैले कृपया पोस्टको तल रहेको आधिकारिक वेबसाइट लिङ्क बटनको साथ यी मितिहरू जाँच गर्नुहोस्।
Many graduate and business schools worldwide accept the GRE (Graduate Record Examination), a standardized test. The Educational Testing Service administers (ETS).
Every year, test centers worldwide, including Nepal, offer the GRE. You can register for the test as soon as you are prepared because it is typically provided on a first-come, first-served basis. By visiting the ETS website (www.ets.org) and clicking on the "GRE General Test" tab, you can find available test dates and locations.
You must register for the GRE by creating an account on the ETS website and paying the registration fee. The test center's location and the test type affect the test fee (paper-based or computer-based). You can learn more about test costs and payment options on the ETS website.
It is important to remember that local factors, such as public health issues or other disruptions, may impact the availability of test dates and locations. For updates and to confirm the availability of test dates and locations in Nepal, you should frequently check the ETS website.
Centre – A
Education Park (P) Ltd. – STN20077A86
Sundhara, Civil Mall, Level – 8,
Please use the posterior lift/stairs of Civil Mal, Kathmandu, Nepal 44600
Centre – B
KATHMANDU #8914 – APCU-891487
Fulbright Commission in Nepal(USEF/N), Aakirti Marg,, Opposite Peace Corps Nepal Office, Kathmandu, Nepal Nepal 44600
Planning Ahead: All You Need To Know About Gre Exam Dates In 2023 For Nepal
Do you aspire to pursue higher studies abroad and need to appear for the Graduate Record Examination (GRE)? If so, this blog post is definitely going to be of great help to you. At the outset, let us start by understanding what GRE is all about. It is a standardized test conducted by Education Testing Service (ETS) that evaluates the verbal, quantitative and analytical writing skills of an individual for assessing their suitability for admission into graduate schools across the world. This post specifically focuses on providing information about GRE Exam dates in 2023 for Nepal. We will cover topics such as overview of GRE Exam dates in 2023 for Nepal, application submission and registration procedures, identification requirements, test fees and payment options, exam preparation strategies etc., which will assist you in enrolling successfully for this exam.
Introduction
Are you planning to take the GRE exam in 2023 and looking for reliable information about the exam dates? If yes, then this blog post is just right for you! We will provide a comprehensive overview of all the key details regarding the GRE Exam dates in 2023 for Nepal. This will include available test dates, registration deadlines, and more so you can prepare ahead and make sure your application has the best chance of success. Read on to get started!
Overview Of Gre Exam Dates In 2023 For Nepal
As Nepal's students prepare to apply for graduate programs in the United States, it is important to be aware of all the GRE Exam dates in 2023. The Educational Testing Service (ETS) provides several test dates through their online System for Test Delivery at Prometric Test Centers located throughout Nepal. Depending on the test you plan to take, there are up to 6 available dates for each exam for the year 2023. The tests have scheduled start times of 12:00pm IST, and conclude at 5:00pm IST. It is also important to note that there might be some holidays or other days where no testing can occur due to official events, so please check before scheduling your appointment.
Application Submission And Registration Procedures
Submitting your application and registering for the GRE exam can be a cumbersome process. In order to ensure that you successfully register for the exam, you must submit your application at least four weeks prior to the desired test date. On submitting your application, you will receive an Authorization Voucher Number which is used to schedule your test date on the official GRE website. Once you have selected your preferred test date, you must make payment using only acceptable forms of payment as listed on their website. After payment, a confirmation email will be sent to you with all the relevant details pertaining to the exam. Make sure you keep this information safe and check it regularly to avoid missing any important changes or updates.
Identification Requirements
If you are planning to take your GRE exam in 2023 and you are based in Nepal, it is important to understand the identification requirements. To be eligible for the exam, candidates must present a valid form of photo ID such as a passport, driver's license or national identity card. The name on the ID must match exactly with the name given during initial registration for the test. Additionally, two recent and identical photographs with a clear image of your face must be submitted during enrollment. Candidates should note that expired IDs will not be accepted.
Test Fees And Payment Options
2023 is quickly approaching and it's time to start planning ahead for the GRE Exam. Test fees vary by location and test center, but in Nepal they total approximately $230 USD. Payment options include credit or debit cards, electronic checks, money orders, and voucher payments (with applicable fees). Be sure to submit your payment well in advance of the registration deadline to give yourself plenty of time for processing.
Exam Preparation Strategies
When planning for the GRE Exam in 2023, it's important to ensure you have the right study plans and strategies. The most important strategy to consider is setting a timeline that works best for you. Make sure you set realistic goals and break them down into manageable tasks. Additionally, practice tests are an effective way to see where your strengths and weaknesses lie so you can focus on improving in those areas. Make sure to give yourself plenty of time to review the material and build confidence in your skills. Lastly, get organized before the exam by familiarizing yourself with all the relevant information regarding content, dates, registration deadlines, fees etc. With good preparation strategies and dedication to your studies, you'll be well-prepared for success on test day!
Conclusion
In conclusion, planning ahead for Nepal's GRE Exam Dates in 2023 is essential to ensure you have the best chance of success. By utilizing all the information presented in this blog post, you can determine when and how to apply for the exam and keep up with any changes that may arise throughout the year. Additionally, having a good understanding of what GRE exam dates are available and how to go about preparing for them can help make taking the test less intimidating. With enough preparation and diligence, you can be on your way to achieving your goals!
MKS Test Preparation specialty
Physical & Online Class
We have online & Physical classes. You can take either one or both.
Class Recording
We record every class. You can access the class recordings from home.
Unlimited Class
You can access the class until you get desired score.
Best Instructors in Nepal
Our most experienced instructors have the best track record for the best score in Nepal.
Learning Management System Portal
Our LMS portal helps you to manage your whole study plan with tons of study material.
LMS Portal feature
MKS instructors
Verbal Instructor
Mr. Bijay Shivakotee
Nepal's Most experienced and score-oriented instructor is himself an American college graduate. He has been a full-time GRE | GMAT | SAT | Language proficiency test instructor since 2000.
Quantitative Instructor
Mr. Manoj K. Singh
Highly experienced and score-oriented Instructor. To address students' needs and make Tests easy, he developed  Learning Management System (LMS), which managed students' overall study. 
GRE Exam Frequently Asked Questions
MKS is a true blessing for them who want to pursue for abroad study. It is a great institute for Ielts and SAT course.
The faculty is very friendly and understanding. This is a very good Institute for the students studying SAT.
I studied SAT and it was indeed a great learning experience. I recommend MKS to everyone who's preparing for SAT
Sat classes are super effective even in on-line. Great teachers and plenty of necessary resources are provided as well. Definitely one of the best institutions for sat preparation.
Mks preparation classes offers a unique and personalized approach to help students achieve their goals. Teachers are experienced and friendlyy. Their way of teaching is just fabulous. Teachers not only focus on talent students but also motivate and guide the lagging one. This personalized attention allows for a more targeted and efficient preparation, focusing on the specific areas that require improvement. Additonaly, Mks preparation offers flexible scheduling options, accommodating the busy lives of students and ensuring that they can receive the support they need when it suits them best. Furthermore, as an experienced teachers, they have in-depth knowledge of the exam format, content, and scoring, enabling us to provide invaluable insights and strategies to boost students' performance. With their expert guidance and support, students can feel more confident and motivated to reach their full potential on the respective exam. You must visit here at least once if u have a dream to study abroad in top unis 🙂
Best consultancy for SAT prep classes in putalisadak. Teachers are great and friendly which helps us to encounter each and every hard questions ❤️
Pranaya Poudel
2023-09-03
I recently completed an SAT prep course with MKS, and it exceeded my expectations in every way. The instructors were incredibly knowledgeable and taught effective test-taking strategies. The small class size allowed for personalized attention, and the regular practice tests were instrumental in my progress. Thanks to this course, I feel well-prepared and confident for the SAT. 5 stars!
MKSprep Consultancy's IELTS class exceeded my expectations in every way. The instructors were not only highly knowledgeable about the test format and requirements, but also incredibly skilled at conveying the material in a clear and engaging manner. The personalized attention I received during the course helped me identify and work on my weak points, leading to a significant improvement in my overall score. The class materials were comprehensive and up-to-date, and the practice tests were invaluable in building my confidence for the actual exam. I highly recommend MKSprep to anyone looking to excel in their IELTS preparation."
Study material is A-one and even teachers ❤️ Thank you MKS prep
The Knockout Op
2023-08-24
Good
We are sorry that this post was not useful for you!
Let us improve this post!
Tell us how we can improve this post?