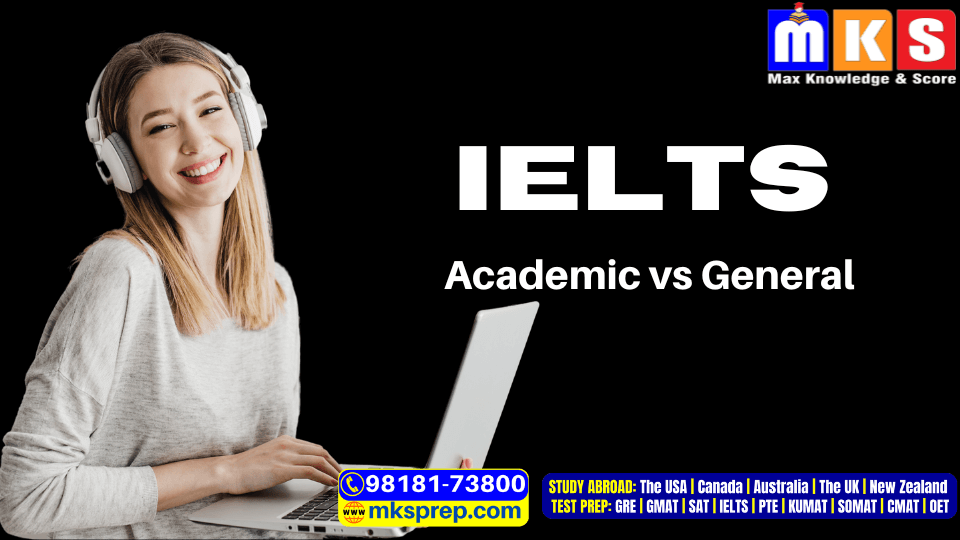 IELTS Academic vs IELTS General in Nepal
Apply for the course; we will call you back soon.
IELTS Academic vs IELTS General in Nepal
What is the difference between IELTS General and IELTS Academic? is the most often asked question among IELTS test participants.
Many people who take the IELTS test are unsure which one to take, resulting in the never-ending IELTS Academic vs IELTS General debate.
The quick answer is that it depends on your reasons for taking IELTS.
You must take the IELTS Academic if you want to study at an English-speaking university or register as a professional. If you're taking it for immigration purposes, you'll need to take the IELTS General exam.
Let's go over the fundamentals of both IELTS categories so you can answer the question, "What is the difference between IELTS General and IELTS Academic?"
The IELTS test is divided into four sections:
1. Writing (task 1 & 2)
2. Reading
3. Listening
4. Speaking
Writing Both IELTS Academic and IELTS General have the same Task 2: Listening and Speaking.
The essay is the second writing task. You will be given a 40-minute essay question to respond to in at least 250 words.
You will hear four audio recordings and must answer 40 questions in the Listening test. It lasts about 30 to 40 minutes.
An examiner will interview you during the Speaking test. The interview, a short presentation, and a discussion are all part of this test. It lasts approximately 11-14 minutes.
So, what's the difference between IELTS Academic and General? Writing task 1 and the type of text found in the reading section are the answers.
IELTS Academic vs IELTS General tests:
Writing Task 1
Academic IELTS
In one of the following ways, describe and analyze data:
1. Bar graph
2. Line graph
3. Pie chart
4. Table
General IELTS
1. Create a letter in one of the styles below:
2. Formal (to someone you do not know)
3. Semi-formal (to someone you know formally)
4. informal (to friends or family)
You have 20 minutes to finish the task. In both Academic and General IELTS, the first task is writing. At least 150 words are required.
IELTS Academic vs IELTS General:
Reading Task
3 long passages, increasing in difficulty in IELTS Academic reading task 3
Texts were written in a formal style (journal articles, textbook extracts)
Science, history, and sociology-related texts
IELTS General reading assignment
4 short passages that get longer and more difficult as they go.
Texts that are more general/everyday
Job descriptions, employment contracts, and other workplace documents; general texts (newspapers, magazines, travel brochures etc.)
Both IELTS Academic and IELTS General give you an hour to complete the entire reading task.
Time management advice from the pros: Use the first 50 minutes to read, take notes if necessary, and then use the last 10 minutes to transfer your answers into your answer sheet/select your answers (computer-delivered IELTS test)
Which of the two IELTS tests, Academic or General, is best for you?
As previously stated, it is dependent on your reason for taking the test.
Here are some examples.
Ram is attempting to gain admission to an Australian university. He intends to pursue a Master of Business Administration degree at the University of Melbourne. The University of Melbourne has requested an IELTS test with a minimum overall band score of 6 despite his graduation from an English-speaking university. Ram must complete the IELTS Academic in order to be considered for admission to the Master's program.
Sita is visiting from Nepal on a Working Holiday visa. She has applied for a position with a London-based IT firm.
The company has requested proof of Sita's English proficiency. Sita must pass the IELTS Academic exam.
Radha is a Nepalese dentist. She has relocated to Sydney and wishes to register with the Australian Dental Board. Radha will need to pass the IELTS Academic in order to do so.
Last year, Hari went to Ontario and met the love of his life. He now wishes to move to Canada in order to be with her.
Hari passed the IELTS General Test as part of his immigration application.
MKS is a true blessing for them who want to pursue for abroad study. It is a great institute for Ielts and SAT course.
The faculty is very friendly and understanding. This is a very good Institute for the students studying SAT.
I studied SAT and it was indeed a great learning experience. I recommend MKS to everyone who's preparing for SAT
Sat classes are super effective even in on-line. Great teachers and plenty of necessary resources are provided as well. Definitely one of the best institutions for sat preparation.
Mks preparation classes offers a unique and personalized approach to help students achieve their goals. Teachers are experienced and friendlyy. Their way of teaching is just fabulous. Teachers not only focus on talent students but also motivate and guide the lagging one. This personalized attention allows for a more targeted and efficient preparation, focusing on the specific areas that require improvement. Additonaly, Mks preparation offers flexible scheduling options, accommodating the busy lives of students and ensuring that they can receive the support they need when it suits them best. Furthermore, as an experienced teachers, they have in-depth knowledge of the exam format, content, and scoring, enabling us to provide invaluable insights and strategies to boost students' performance. With their expert guidance and support, students can feel more confident and motivated to reach their full potential on the respective exam. You must visit here at least once if u have a dream to study abroad in top unis 🙂
Best consultancy for SAT prep classes in putalisadak. Teachers are great and friendly which helps us to encounter each and every hard questions ❤️
Pranaya Poudel
2023-09-03
I recently completed an SAT prep course with MKS, and it exceeded my expectations in every way. The instructors were incredibly knowledgeable and taught effective test-taking strategies. The small class size allowed for personalized attention, and the regular practice tests were instrumental in my progress. Thanks to this course, I feel well-prepared and confident for the SAT. 5 stars!
MKSprep Consultancy's IELTS class exceeded my expectations in every way. The instructors were not only highly knowledgeable about the test format and requirements, but also incredibly skilled at conveying the material in a clear and engaging manner. The personalized attention I received during the course helped me identify and work on my weak points, leading to a significant improvement in my overall score. The class materials were comprehensive and up-to-date, and the practice tests were invaluable in building my confidence for the actual exam. I highly recommend MKSprep to anyone looking to excel in their IELTS preparation."
Study material is A-one and even teachers ❤️ Thank you MKS prep
The Knockout Op
2023-08-24
Good