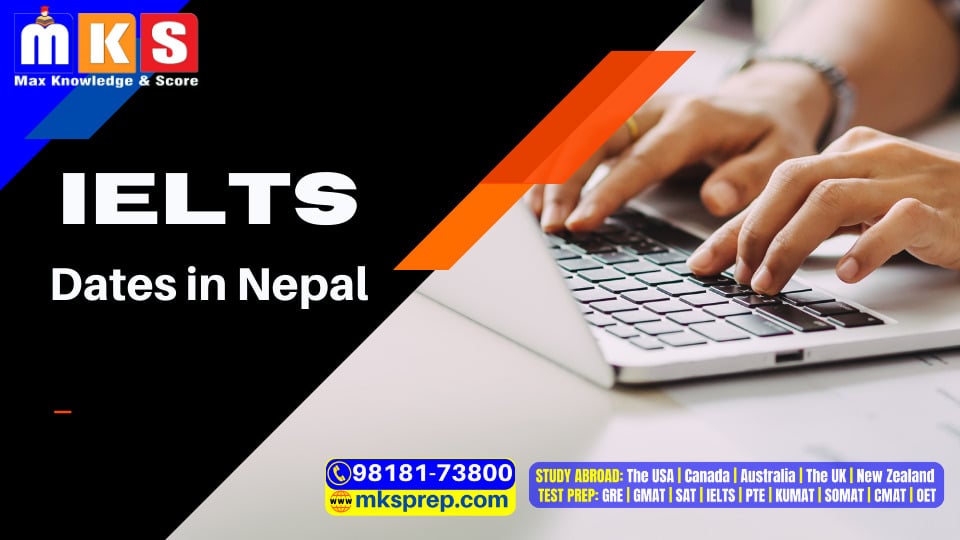 IELTS Dates in Nepal
Apply for the course; we will call you back soon.
IELTS Dates in Nepal
How to book your IELTS?
You can take the IELTS on the computer up to 7 days a week, twice a day, and on paper up to 4 times a month, or 48 times a year.
You prefer a paper-based or computerized IELTS.
Before registering for your IELTS test, determine which test you prefer. Do you prefer writing on paper or using a computer? How to find out?
How do I register for the IELTS?
There are no limits to how many times you can take the IELTS on a computer or on paper.
Decide which IELTS test you prefer before registering.
What is the procedure for registering for the IELTS examination?
You can book your IELTS test online or in person at an IDP branch. The process is as follows:
1. Visit https://ielts.idp.com/nepal
2. 'Register for Test' should be selected.
3. Choose the city/location where you want to take the test (available IELTS test centers in Nepal are mentioned)
4. Book your preferred test time and date (be extremely careful while choosing the module you wish to take)
5. Complete the online application by filling out all required fields.
6. Pay the exam fee.
You will receive an email confirmation once your test date has been confirmed.
Speaking test booking online.
You can book the Speaking test on your preferred date and time online and book a time slot (only for IELTS on paper). If you do not select a time slot within the specified time frame, one will be assigned to you automatically.
How do you book your IELTS computer-delivered test?
You can book computer-delivered IELTS by following the same steps. To schedule your IELTS, look for the icon next to the date. Please note that there is no option to schedule a Speaking test slot online.
IELTS Test date and Time
IELTS Dates in Nepal are given month-wise below. you can make a study plan accordingly. These dates may be changed or packed. For the final booking, you can contact us or book the test date yourself. The official page link is given below the post.
What is the IELTS test fee in Nepal?
The IELTS test fee in Nepal is NPR 21,500
Venue
Pashupati Vision
Complex
(Computer-delivered IELTS)
(Paper-based IELTS)
IELTS Dates for the Month of September 2023
| Date | Test type | Venue | Format |
| --- | --- | --- | --- |
| 09 Sep 2023 | Academic – IELTS | Pashupati Vision Complex (IELTS on Paper) | — |
| 09 Sep 2023 | General Training – IELTS | Pashupati Vision IELTS Complex (IELTS on Paper) | — |
| 12 Sep 2023 | Academic – IELTS | Pashupati Vision 9:00 Complex (IELTS on Computer) | — |
| 12 Sep 2023 | General Training – IELTS | Pashupati Vision 9:00 IELTS Complex (IELTS on Computer) | — |
| 12 Sep 2023 | Academic – IELTS | Pashupati Vision 14:00 Complex (IELTS on Computer) | — |
| 12 Sep 2023 | General Training – IELTS | Pashupati Vision 14:00 IELTS Complex (IELTS on Computer) | — |
| 13 Sep 2023 | Academic – IELTS | Pashupati Vision 9:00 Complex (IELTS on Computer) | — |
| 13 Sep 2023 | General Training – IELTS | Pashupati Vision 9:00 IELTS Complex (IELTS on Computer) | — |