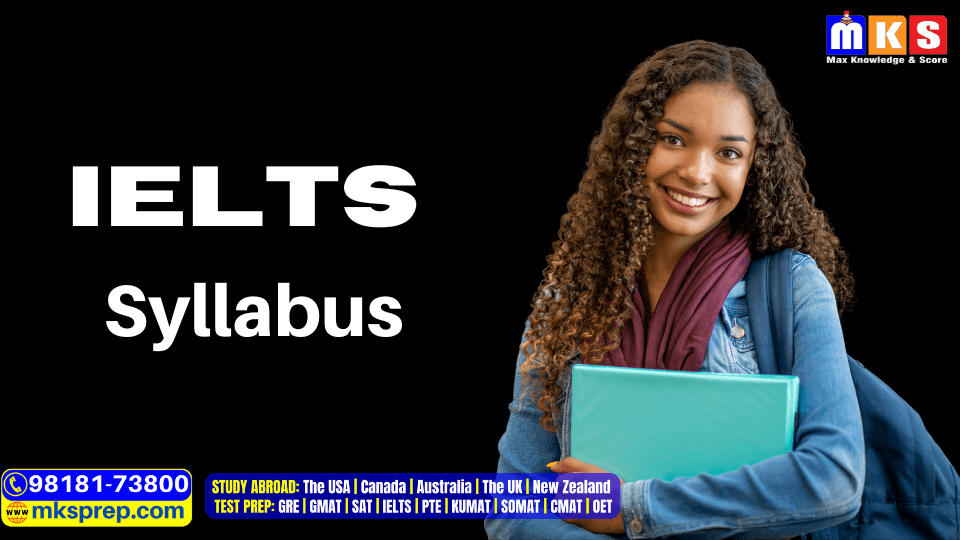 IELTS Syllabus in Nepal
Please apply for the course; we will call you back soon.
IELTS Exam Syllabus
It is absolutely essential for candidates to understand the IELTS Pattern and Syllabus fully. Reading, Listening, Speaking, and Writing are the four sections of the IELTS Syllabus. The IELTS total score is based on these four sections. Aspirants know how to approach each IELTS section. The total score is the sum of the four skill categories. The test lasts 2 hours and 45 minutes.
The IELTS exam has four parts:
Section
Types of Questions
Number of Questions
Duration
Listening
Multiple choice
Diagram labeling
Sentence completion
Summary completion
40 questions
30 minutes
Reading
Multiple choice questions
Sentence completion
Summary completion
Matching features
Matching headings
60 minutes
40 questions
Writing
Two writing tasks
60 minutes
2 questions
Speaking
Three parts in this section
11-14 minutes
MKS is a true blessing for them who want to pursue for abroad study. It is a great institute for Ielts and SAT course.
The faculty is very friendly and understanding. This is a very good Institute for the students studying SAT.
I studied SAT and it was indeed a great learning experience. I recommend MKS to everyone who's preparing for SAT
Sat classes are super effective even in on-line. Great teachers and plenty of necessary resources are provided as well. Definitely one of the best institutions for sat preparation.
Mks preparation classes offers a unique and personalized approach to help students achieve their goals. Teachers are experienced and friendlyy. Their way of teaching is just fabulous. Teachers not only focus on talent students but also motivate and guide the lagging one. This personalized attention allows for a more targeted and efficient preparation, focusing on the specific areas that require improvement. Additonaly, Mks preparation offers flexible scheduling options, accommodating the busy lives of students and ensuring that they can receive the support they need when it suits them best. Furthermore, as an experienced teachers, they have in-depth knowledge of the exam format, content, and scoring, enabling us to provide invaluable insights and strategies to boost students' performance. With their expert guidance and support, students can feel more confident and motivated to reach their full potential on the respective exam. You must visit here at least once if u have a dream to study abroad in top unis 🙂
Best consultancy for SAT prep classes in putalisadak. Teachers are great and friendly which helps us to encounter each and every hard questions ❤️
Pranaya Poudel
2023-09-03
I recently completed an SAT prep course with MKS, and it exceeded my expectations in every way. The instructors were incredibly knowledgeable and taught effective test-taking strategies. The small class size allowed for personalized attention, and the regular practice tests were instrumental in my progress. Thanks to this course, I feel well-prepared and confident for the SAT. 5 stars!
MKSprep Consultancy's IELTS class exceeded my expectations in every way. The instructors were not only highly knowledgeable about the test format and requirements, but also incredibly skilled at conveying the material in a clear and engaging manner. The personalized attention I received during the course helped me identify and work on my weak points, leading to a significant improvement in my overall score. The class materials were comprehensive and up-to-date, and the practice tests were invaluable in building my confidence for the actual exam. I highly recommend MKSprep to anyone looking to excel in their IELTS preparation."
Study material is A-one and even teachers ❤️ Thank you MKS prep
The Knockout Op
2023-08-24
Good