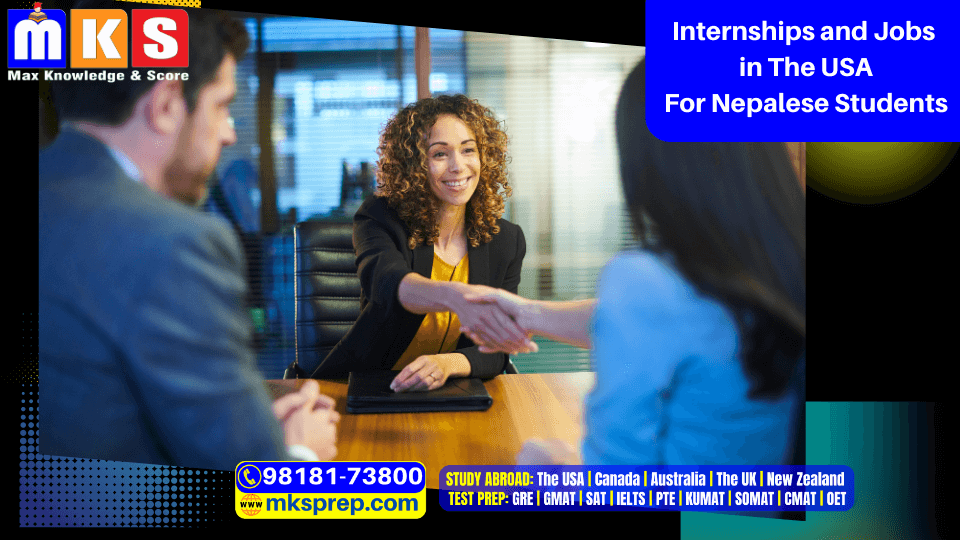 Internships and Jobs in The USA
Internships and Jobs in The USA
Many individuals aspire to study abroad, but the application procedure for international colleges is arduous. One must not only devote the maximum amount of time to preparing all the necessary paperwork but also be financially prepared for the associated expenses. One's own funds can only cover specific fees, including tuition and living costs. The remaining students are supported by family, college loans, scholarships, part-time employment, and internships.
For this reason, many students in the United States choose part-time employment as soon as the semesters begin. In addition to this, several colleges provide internship programs for senior-year students. This helps students with their everyday expenditures and allows them to obtain practical experience.
Post-study Work
Depending on your subject of study, you can begin working upon completing your course. The most popular job sectors in the United States include technology, health care, and information technology. Before you may begin working full-time in the United States, you must get a post-study work visa. The length of your stay will range from 12 to 24 months based on the topic of study or profession you get. For example, STEM studies can result in a work visa extension of up to 24 months.
Part-Time Job
A student can choose between essentially two forms of part-time employment. The first category is Campus Jobs, followed by Off-campus Jobs. Campus Jobs consist of professions such as Library Monitor, Teaching Assistant, Tour Guide, and Peer Tutor. This employment is customized to student visa rules, and students can handle them alongside their studies because they are on campus. An off-campus part-time job is only permitted if your program credits and/or university permit it. These positions include waiters and bartenders, shop employees, warehouse workers, and call center phone operators. Read about the ten most common part-time campus jobs for students in the United States to learn about the available campus employment possibilities. If you are uncertain about which part-time work to choose, read How to Find the Ideal Student Part-Time Job Abroad.
Internships
Students aiming to study in the United States can select from a choice of careers that will help them get started and cover their day-to-day expenditures. Some American institutions provide internship or cooperative education opportunities to all students. You are free to pick either option. The primary distinction between a Co-op and an Internship program is that internships are often completed over the summer or autumn break. In contrast, Co-op employment is a multi-term position with variable work schedules based on your coursework and/or your employer's needs. In addition, you can pursue off-campus internships independently, which may boost your overall profile.
Working as an International Student in the United States
One of the biggest worries for international applicants is that they won't be able to work while they're studying in the US. Can they work as an international student in the United States? Yes, they can work and study at the same time. They can make some extra money and gain experience. But there are still some limits. Rules and laws must be followed to the letter. Only people with F-1 and J-1 visas are allowed to work. People with an M-1 visa can't get a job. There are three types of non-immigrant student visas to study in the USA: F-1, J-1, and M-1. Here is a quick look at these three types of visas and the requirements for getting a student work visa in the USA:
F-1 Visa
The F-1 visa is for students who want to go to school full-time. It is the most popular visa for international students in the U.S. People with an F-1 visa can work part-time on campus or do Curricular Practical Training (CPT), which is usually 20 hours or less per week. F-1 students can also do optional practical training (OPT) for up to a year after they finish their studies.
J-1 Visa
The J-1 visa is given to students who need practical training that they can't get in their home country as part of their academic program. The J-1 student visa gives the same work options as the F-1 visa as long as the exchange visitor program's requirements are met.
M-1 Visa
An M-1 visa is for vocational or non-academic training. It is given to a student who wants to go to a vocational or another type of school in the US Those with an M-1 visa are not allowed to work in the US while they are in school. Students with this type of visa must also show proof that they have enough money on hand to pay for tuition and living costs for the whole time they plan to stay.
Students should know that F and M visas can be given out up to 120 days before a course starts. But a student can't come to the US earlier than 30 days before the course starts.
F-1 visa to work in the US
F-1 students who have finished at least one year of college or university can get work experience, also called "practical training." Curriculum Practical Training (CPT) and Optional Practical Training are two types of practical training (OPT). Most practical training takes place on campus. On-campus jobs can be done inside or outside of the school campus as long as they have something to do with the school. Also, the work done must be related to the curriculum of the school or program. So, having a job on campus doesn't necessarily mean that you only work on school grounds. F-1 students can work 20 hours a week while school is in session and full-time during breaks, vacations, and other times when school is not in session.
Curricular Practical Training (CPT)
Sponsoring employers set up CPT, which students usually do for credit and to get real-world experience in their field of study. To be eligible for CPT, you must have finished at least one year of school, said what your major is, and have a job offer from an employer. There might not be a lot of employers who take part in CPT. CPT also says you must apply for permission when you get a job offer. The institution's Designated School Official (DSO) gives this permission and checks to see if the job meets CPT requirements. Since there are different CPT requirements for undergraduate and graduate students, you will need to research and check with your university's International Student Office. CPT is a part-time job because you can only work 20 hours or less per week. You can also work full-time only when school isn't in session. Keep in mind that there is no limit to how many CPT can be used. But if you're doing full-time CPT for a year or more, you won't be able to do Optional Practical Training. Don't lose track of time!
Optional Practical Training (OPT)
All F-1 students have the right to a year of OPT as long as they finish their first year of school. OPT is meant to go along with the academic program, so the work is directly related to the major or specialization. If you are in a STEM (Science, Technology, Engineering, or Mathematics) degree program, you may be able to get an extra 24 months of OPT for a total of 36 months. CPT must be done before you graduate, but OPT can be done before or after you graduate. For OPT jobs, you need to get an Employment Authorization Document (EAD) from the DHS Service Center in your area.
Different things can happen during F-1 OPT, so keep in mind the following:
1. OPT can be done while in school, but not more than 20 hours per week.
2. OPT can be used during study breaks, summer breaks, and other times when school is not in session. In this case, you have to sign up for the next term or session and meet other requirements set by the school and employer.
3. You can work full-time during OPT if you have finished all course requirements.
4. After you finish the program, you can work full-time during OPT.
You also must remember that OPT is directly related to your field of study. For example, if you are studying economics, you cannot work as a graphic designer and vice versa.
F-1 visa holders can work off campus, which may or may not be related to their field of study. This is in addition to the practical training that can be done on campus. Students who have financial problems (like losing a scholarship or having their currency lose value) or who have a job offer from an international organization may be able to work off-campus if they meet specific requirements. The DSO's job is to determine whether students' requests to work off-campus are valid.
Work options beyond OPT: H -1B Visa for F1 students
Most people who want to work in the United States get an H-1B visa. Many students return to their home countries when their OPT is over. However, many students also want to keep working. H-1B visas are non-immigrant visas that US companies issue or sponsor to hire foreign workers in specialized fields like engineering, business, medicine, architecture, mathematics, law, education, physical sciences, and many more. People with an F-1 visa can switch to an H-1B visa or transfer to an H-1B visa. For this, a student must find a job with a US company willing to petition for an H1-B. The company where you first started working on OPT might hire you. The employer will send the H1-B grant for the worker to the US Department of Labor and the US Citizenship and Immigration Services (USCIS). The number of H-1B visas that can be given out each year is called the "H-1B Cap." Also, the USA gives out 20,000 visas to people who have earned advanced degrees like an MS or Ph.D. in the country. USCIS has also started accepting applications through a lottery system in the past few years. In short, there is a lot of competition to get an H1-B visa.
Working in the US with a J-1 visa People with a J-1 visa can do three types of work:
On-Campus: As part of the exchange visitor program, you can work on or near campus in areas related or unrelated to your studies. For instance, you could work for a company that organizes events on the school campus.
Academic Training: This is the authorized training module related to the student's field of study. If you have a J-1 visa, you can get work experience for up to 18 months after you finish your degree program. To do this, you must have an offer of employment and apply for the academic training before the date of completion on the DS-2019 form. The DS-2019, also called a "Certificate of Eligibility for Exchange Visitor (J-1) Status," is the document that lets you apply for the J-1 Visa as an intern or trainee in the United States.
Off-Campus: Students in the exchange visitor program may be able to get jobs off-campus if they need money for things like medical bills or unexpectedly losing their scholarships.
For work-related questions, students need to check in with the DSO for international students and stay up to date. When you work in the USA, you should know about employee rights, contracts, benefits, minimum wage, tax deductions, and rules and regulations.
Important Tips
Start looking for companies that will help you get a work visa. After an internship, look into possible jobs with the company. Check out the rules, opportunities, and options, as well as the costs and achievable deadlines.
Follow your school's International Student's Office and Career Center for news, opportunities, and general information. Talk to a career coach to help you set goals and build your resume. Go to career fairs and other events where you can meet people. You can meet recruiters and other professionals in your field at these events.
Be proactive and get to know the student community, faculty, and alumni groups, but don't stop there. Building relationships and networking are essential if you want to find your next employer or job.
Start making plans and looking for a job before you even finish school. Don't wait until your program is done.
MKS is a true blessing for them who want to pursue for abroad study. It is a great institute for Ielts and SAT course.
The faculty is very friendly and understanding. This is a very good Institute for the students studying SAT.
I studied SAT and it was indeed a great learning experience. I recommend MKS to everyone who's preparing for SAT
Sat classes are super effective even in on-line. Great teachers and plenty of necessary resources are provided as well. Definitely one of the best institutions for sat preparation.
Mks preparation classes offers a unique and personalized approach to help students achieve their goals. Teachers are experienced and friendlyy. Their way of teaching is just fabulous. Teachers not only focus on talent students but also motivate and guide the lagging one. This personalized attention allows for a more targeted and efficient preparation, focusing on the specific areas that require improvement. Additonaly, Mks preparation offers flexible scheduling options, accommodating the busy lives of students and ensuring that they can receive the support they need when it suits them best. Furthermore, as an experienced teachers, they have in-depth knowledge of the exam format, content, and scoring, enabling us to provide invaluable insights and strategies to boost students' performance. With their expert guidance and support, students can feel more confident and motivated to reach their full potential on the respective exam. You must visit here at least once if u have a dream to study abroad in top unis 🙂
Best consultancy for SAT prep classes in putalisadak. Teachers are great and friendly which helps us to encounter each and every hard questions ❤️
Pranaya Poudel
2023-09-03
I recently completed an SAT prep course with MKS, and it exceeded my expectations in every way. The instructors were incredibly knowledgeable and taught effective test-taking strategies. The small class size allowed for personalized attention, and the regular practice tests were instrumental in my progress. Thanks to this course, I feel well-prepared and confident for the SAT. 5 stars!
MKSprep Consultancy's IELTS class exceeded my expectations in every way. The instructors were not only highly knowledgeable about the test format and requirements, but also incredibly skilled at conveying the material in a clear and engaging manner. The personalized attention I received during the course helped me identify and work on my weak points, leading to a significant improvement in my overall score. The class materials were comprehensive and up-to-date, and the practice tests were invaluable in building my confidence for the actual exam. I highly recommend MKSprep to anyone looking to excel in their IELTS preparation."
Study material is A-one and even teachers ❤️ Thank you MKS prep
The Knockout Op
2023-08-24
Good