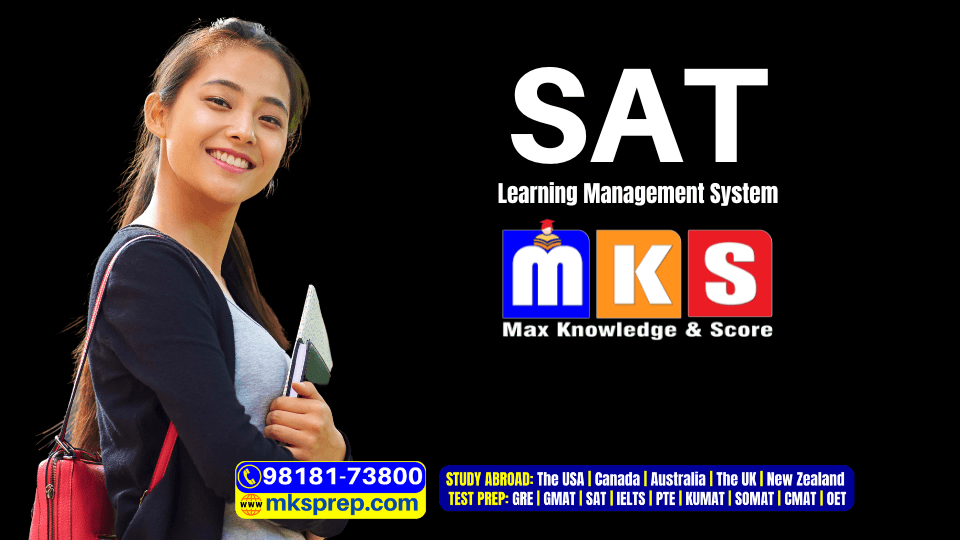 SAT Class in Pokhara, Nepal
Apply for the course; we will call you back soon.
This content is helpful for
The best and most effective SAT class in Pokhara
MKSprep is the Best live online class provider in Nepal. We have the best team instructor in town. Hundreds of students from Pokhara itself.
Master the SAT with MKSprep: Comprehensive SAT Classes in Pokhara for Every Learner
Are you an aspiring student planning to take the SAT and searching for the perfect preparation course? Look no further than MKSprep, offering top-notch SAT classes in Pokhara to help you excel in your college admissions journey. We understand the diverse learning needs of our students, which is why we provide physical, online, and hybrid class options to suit your preferences and requirements.
Our state-of-the-art Learning Management System (LMS) is the cornerstone of our SAT courses, equipping you with a wealth of resources to enhance your SAT preparation. Our LMS includes the following:
10 full-length tests that mirror the real SAT experience, enabling you to practice under authentic conditions and gauge your progress effectively.
200+ section-wise tests tailored to help you focus on specific areas, boost your confidence, and improve your overall SAT score.
Interactive PowerPoint presentations on each topic, designed to facilitate better comprehension and retention of crucial concepts.
In-depth concept explanations for each topic, ensuring a thorough understanding of the subject matter and laying a solid foundation for your SAT preparation.
PDF practice questions on each topic, allowing you to practice and consolidate your learning at your own pace.
A hard-copy book to complement your online learning, offering you the convenience of studying offline and making annotations as needed.
At MKSprep, the right instructor can significantly impact your SAT preparation. That's why we've carefully selected the best instructors in the field, renowned for their extensive experience and proven success in guiding students to SAT excellence.
Take your chance to unlock your potential and achieve your desired SAT score with our comprehensive MKSprep courses. Enroll today and get ready to ace the SAT!
MKS SAT Preparation specialty
Physical & Online Class
We have online & Physical classes. You can take either one or both.
Class Recording
We record every class. You can access the class recordings from home.
Unlimited Class
You can access the class until you get desired score.
Best Instructors in Nepal
Our most experienced instructors have the best track record for the best score in Nepal.
Learning Management System Portal
Our LMS portal helps you to manage your whole study plan with tons of study material.
LMS Portal feature
MKS instructors
Verbal Instructor
Mr. Bijay Shivakotee
Nepal's Most experienced and score-oriented instructor is himself an American college graduate. He has been a full-time GRE | GMAT | SAT | Language proficiency test instructor since 2000.
Quantitative Instructor
Mr. Manoj K. Singh
Highly experienced and score-oriented Instructor. To address students' needs and make Tests easy, he developed  Learning Management System (LMS), which managed students' overall study. 
As part of the college admissions process, colleges and universities in the United States use the SAT (Scholastic Assessment Test). Developed and administered by the College Board, the SAT is designed to assess a student's readiness for college-level work by measuring their critical reading, writing, and mathematical skills. High school juniors and seniors primarily take the test, although younger students can also participate.
Structure:
The SAT is divided into two main sections: Evidence-Based Reading and Writing and Math. There is also an optional Essay section. The test is scored on a scale of 400 to 1600, with each of the two main sections worth 200 to 800 points.
Preparation:
Students can prepare for the SAT by reviewing the content covered in the test, taking practice tests, and developing test-taking strategies. The College Board offers free resources through its website and partnership with Khan Academy, such as sample questions and full-length practice tests. Many students also choose to enroll in SAT prep courses, hire tutors, or use self-paced study guides.
Provides good learning platform. Satisfied
Prashant Kuikel
2023-10-31
"I had a fantastic experience with MKS Institution. Their online LMS portal made learning incredibly convenient, and the access to unlimited study materials was a game-changer. The instructors were knowledgeable, and the quality of education was top-notch. I wholeheartedly recommend it to anyone looking for quality education."
Divyanshu Gupta
2023-10-31
Best institution in ktm valley
Upendra Mahatara
2023-10-17
In MKSprep, classes are taught by the expert and the environment is quite and suitable for the students to focus on assignment and the many alumni have scored 1300+ so if you're looking for SAT class I highly recommend MKSprep for your better future.
Best for sat
Nice place for SAT

Importance of the SAT:

The SAT is one of the most widely used standardized tests for college admissions in the United States, along with the ACT. College admissions officers use SAT scores with other factors, such as high school GPA, extracurricular activities, recommendation letters, and personal essays, to evaluate an applicant's potential for success in college. However, some colleges and universities have adopted test-optional or test-flexible policies, allowing applicants to decide whether or not to submit their SAT scores as part of their application.
Why SAT Test?
The SAT (Scholastic Assessment Test) is an essential aspect of the college admissions process in the United States because it serves several purposes:
Standardized assessment: The SAT provides a standardized measure of a student's academic abilities, allowing colleges and universities to compare applicants on a consistent scale. High schools nationwide have varying levels of academic rigor, grading systems, and course offerings. The SAT helps level the playing field by offering a single, objective assessment of a student's readiness for college-level work.
Predicting college success: Research has shown that SAT scores can effectively predict a student's success in college, particularly when combined with a high school GPA. The test measures critical thinking, problem-solving, and analytical skills essential for higher education success.
Identifying strengths and weaknesses: The SAT is designed to assess a student's reading, writing, and mathematics skills. By evaluating their performance on the test, students can identify their strengths and weaknesses, helping them make informed decisions about their college major and career path.
Access to scholarships and financial aid: Many scholarships and financial aid programs use SAT scores as part of their eligibility criteria. By taking the SAT, students can access valuable financial resources to help offset the cost of college tuition and other expenses.
College readiness: Preparing for and taking the SAT can help students develop important study habits and test-taking strategies that will serve them well in college. The process of studying for the SAT encourages students to review and reinforce their knowledge of core academic subjects, helping them feel more prepared for the challenges of higher education.
While the SAT remains an important factor in college admissions, it's essential to remember that it's just one component of a student's overall application. Colleges and universities also consider factors such as high school GPA, extracurricular activities, recommendation letters, and personal essays when evaluating applicants. Additionally, some institutions have adopted test-optional or test-flexible policies, allowing students to choose whether or not to submit their SAT scores as part of their application.
We are sorry that this post was not useful for you!
Let us improve this post!
Tell us how we can improve this post?