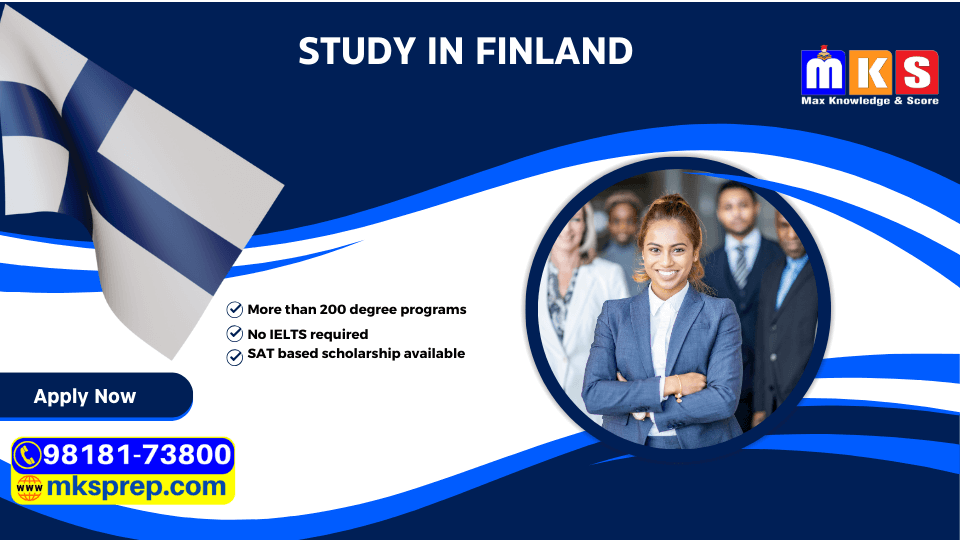 Study in Finland 2024
Apply for the course; we will call you back soon.
Study in Finland from Nepal 2024
Discover Finland: Located in northern Europe and bordered by Sweden, Norway, and Russia, Finland is a European Union member representing Nordic democracy and a unique way of life.
Study in a Safe and Exotic Destination: Finland offers an exotic yet safe study destination for international students. Its credible society boasts transparency and prioritizes education.
Global Leader in Tech and Equality: Finland excels in information technology, maintains gender equality, and exhibits low corruption levels. It boasts one of the world's most advanced education systems.
Exceptional Quality of Life: Finland's innovative approach and investments in education result in a high standard of living and an extraordinary quality of life.
Study in Finland: Explore the opportunity to study in a vibrant and innovative educational environment.
Apply for Spring 2024 Intake (Jan/Feb 2024): Secure your spot for the upcoming spring semester.
200+ English-Taught Degree Programs: Choose from a diverse range of programs, including Business, Computer Science, Engineering, Tourism, Nursing, and more.
No IELTS Required: Enjoy hassle-free admission without an IELTS certificate.
Affordable Tuition Fees: Benefit from reasonable tuition costs, making education in Finland accessible.
SAT-Based Scholarships Available: Unlock scholarship opportunities based on your SAT scores.
Entrance Exam Preparation Classes: Receive comprehensive support with preparation classes for entrance exams.
Joint Application System: Easily apply to multiple Universities of Applied Sciences (UAS) and Universities.
Internationally Recognized Degrees: Attain a highly esteemed qualification, acknowledged worldwide.
Limited Time Offer: Act fast—applications open on September 4th and close on September 14th, 2024.
Reserve Your Seat for Finnish Entrance Preparation Classes: Submit your documents and secure your spot for intensive preparation classes.
Contact Us: For more information, get in touch with us or visit our office location. We're here to guide you on your educational journey to Finland.
Finland's World-Class Universities: Free Education for All and Diverse Study Opportunities
World-Class Universities: Finland's universities, renowned for their excellence, rank among the best globally.
Free Education for All: Finland's commitment to education means that free education is accessible from undergraduate to graduate levels for eligible students.
Inclusive Policy: The availability of free public education extends beyond Finnish citizens; it's also open to foreigners and exchange students, courtesy of the Finnish government's support.
Policy Considerations: While budgetary pressures have prompted recent discussions about changing this policy, as of now, it remains unchanged.
Diverse Study Options: Finland attracts students from around the world, offering a wide range of subjects to study. However, it is particularly renowned for its outstanding programs in architecture and design.
Unlocking Finland's Higher Education System: Universities, Polytechnics, and the Impact of EHEA Integration
Higher Education System in Finland: For Nepali students considering higher education in Finland, it's essential to understand the system, divided into two main categories: universities and polytechnics (known as "ammattikorkeakoulu" in Finnish).
Universities for Academic Studies: Universities primarily focus on academic subjects and prepare students for advanced studies at the graduate level.
Polytechnics for Applied Studies: On the other hand, polytechnics emphasize applied subjects and often serve as the final stage of education, with graduates typically not pursuing further advanced degrees.
Changing Landscape: Historically, the division between universities and polytechnics was strict within Finland's academic establishment. However, this landscape rapidly evolves due to reforms driven by Finland's participation in the European Higher Education Area (EHEA).
EHEA Integration: The EHEA acts as an overarching governing body, facilitating the integration and standardization of education systems across European countries, including Finland.
Understanding these distinctions can help Nepali students make informed decisions when considering higher education opportunities in Finland.
Navigating Finland's Higher Education System: Understanding the Three-Tiered Degree Structure
Degree System in Finland: Thanks to changes mandated by the EHEA (European Higher Education Area), Finland's degree system closely resembles the three-tiered structure in the United States and many other Western countries.
Three-Tiered System: Finland's system comprises an undergraduate degree (Bachelor's), an intermediate graduate degree (Master's), and an advanced graduate degree (Doctoral).
Inclusion of Polytechnics: Finland's version of this system includes polytechnics, slightly different from other countries' systems. However, the fundamental structure remains similar.
Doctoral Degrees: At the Doctoral level, Finnish universities offer two distinct degrees: a PhD and a Licentiate. Both degrees require a similar level of academic achievement and coursework. However, the Licentiate program doesn't include the complex dissertation process necessary for a Ph.D.
Understanding these aspects of Finland's education system can be valuable for international students considering higher education opportunities.
Cracking the Code: Understanding Finland's Standardized College Admissions Process
Finnish College Admissions Process: In Finland, the college admissions process is highly standardized and revolves around entrance exams, which significantly influence final decisions.
Test Scores and Grades Are Key: Admissions decisions in Finnish colleges are primarily determined by test scores and academic grades. Unlike American institutions, there are no essays, interviews, or holistic evaluations of applicants.
Objective and Fair Approach: Finnish colleges favor this numbers-based approach, considering it more objective and equitable. This transparency aligns with the principles of fairness held by college authorities.
Comprehensive Entrance Exams: Finland's college entrance exams are more extensive than standardized tests in other countries, making it easier for well-rounded students to excel.
Intense Competition: Due to the high quality of education, limited available slots, and the unique aspect of free education, competition for spots in Finnish universities is fierce.
Understanding the standardized nature of the Finnish college admissions process can help international students prepare effectively for their academic journey in Finland.
Top Reasons to Choose Finland for Your Higher Education
Why Choose Finland for Your Higher Education: 10 Compelling Reasons
Tuition-Free Education: Finland offers 100% free education with scholarships, meaning no student tuition fees.
Schengen Visa: As a Scandinavian European country, Finland provides access to the Schengen visa, simplifying travel within Europe.
Global Recognition: Finland is globally recognized for its high-quality education and academic excellence.
Autonomous Institutions: Higher education institutions in Finland enjoy high autonomy while receiving significant funding from the Ministry of Education and Culture.
Adaptive Curriculum: Finnish universities respond to societal, business, and industry needs by tailoring their curricula and teaching approaches accordingly.
English Programs: Finland offers a wide range of high-quality programs in English, catering to exchange and degree students at all education levels.
Transferable Skills: Finnish education focuses on providing students with valuable transferable skills in academia and the job market.
Top-Notch Facilities: International students frequently praise the high standards of facilities in Finland, particularly in higher education institutions.
Access to Libraries: Finnish students enjoy the right to freely use institutional libraries with a library card, alongside well-stocked libraries and free internet access.
Modern Infrastructure: Finland boasts well-equipped laboratories, e-learning platforms, modern and functional buildings, and efficient heating systems, ensuring a comfortable and conducive learning environment even during cold winters.
These compelling reasons make Finland an attractive destination for international students seeking quality higher education.
Frequently asked questions (FAQs) about studying in Finland, along with brief answers:
1. Q: Are there tuition fees for international students in Finland?
A: In Finland, higher education is generally tuition-free for both Finnish and international students. However, some specific programs may have tuition fees for non-EU/EEA students.
2. Q: What are the language requirements for studying in Finland?
A: Most programs in Finland are offered in English, so a good command of English is essential. Some programs may require English language proficiency test scores like IELTS or TOEFL.
3. Q: How can I apply for scholarships in Finland?
A: You can apply for scholarships through various sources, including Finnish universities, government, and international organizations. Check with your chosen university and visit the Study in Finland website for scholarship opportunities.
4. Q: What is the cost of living in Finland for students?
A: The cost of living varies depending on the city and lifestyle, but it's estimated to be around 700-900 EUR per month. This includes accommodation, food, transportation, and personal expenses.
5. Q: Can I work while studying in Finland as an international student?
A: Yes, international students are allowed to work part-time during their studies. EU/EEA students can work without restrictions, while non-EU/EEA students are generally qualified to work up to 25-30 hours per week during the academic year.
6. Q: How can I apply for a student visa for Finland?
A: To apply for a student visa or residence permit, you typically need an admission letter from a Finnish university, proof of sufficient funds, and valid health insurance. You can start the application process online through the Finnish Immigration Service (Migri) website.
7. Q: Are English-taught programs available at all education levels in Finland?
A: Yes, Finland offers English-taught programs at the bachelor's, master's, and doctoral levels, making it accessible for international students at all stages of their education.
8. Q: What is the duration of a typical bachelor's or master's program in Finland?
A: A bachelor's program in Finland typically takes three years, while a master's program lasts two years. Doctoral programs can vary in duration.
9. Q: Is Finland a safe country for international students?
A: Finland is considered one of the safest countries in the world, with a low crime rate and a welcoming atmosphere for international students.
10. Q: What are the best universities in Finland for field of study? 
A: The best university depends on your field of study. Universities such as the University of Helsinki, Aalto University, and the University of Turku are well-regarded and offer many programs.
Here are some helpful links for students looking to study in Finland:
Study in Finland Official Website: The official website of Finland's national education agency provides comprehensive information on studying in Finland, scholarships, programs, and application procedures. Study in Finland Official Website
Finnish National Agency for Education (EDUFI): EDUFI's website offers detailed information on higher education institutions in Finland, admission requirements, and scholarships. Finnish National Agency for Education (EDUFI)
Studyinfo: Studyinfo is a portal that allows you to search for degree programs and courses in Finland, providing information on admissions, application deadlines, and prerequisites. Studyinfo
Finnish Immigration Service (Migri): For information on residence permits, visa requirements, and immigration procedures for international students. Finnish Immigration Service (Migri)
Study in Finland Facebook Page: Connect with the international student community and stay updated on events, news, and updates related to studying in Finland. Study in Finland Facebook Page
Study in Finland YouTube Channel: Access videos and webinars to gain insights into studying and living in Finland. Study in Finland YouTube Channel
Finnish Universities: Explore individual universities' websites for specific program details, admission requirements, and campus life.
These resources will help you gather valuable information and navigate the process of studying in Finland effectively
We are sorry that this post was not useful for you!
Let us improve this post!
Tell us how we can improve this post?