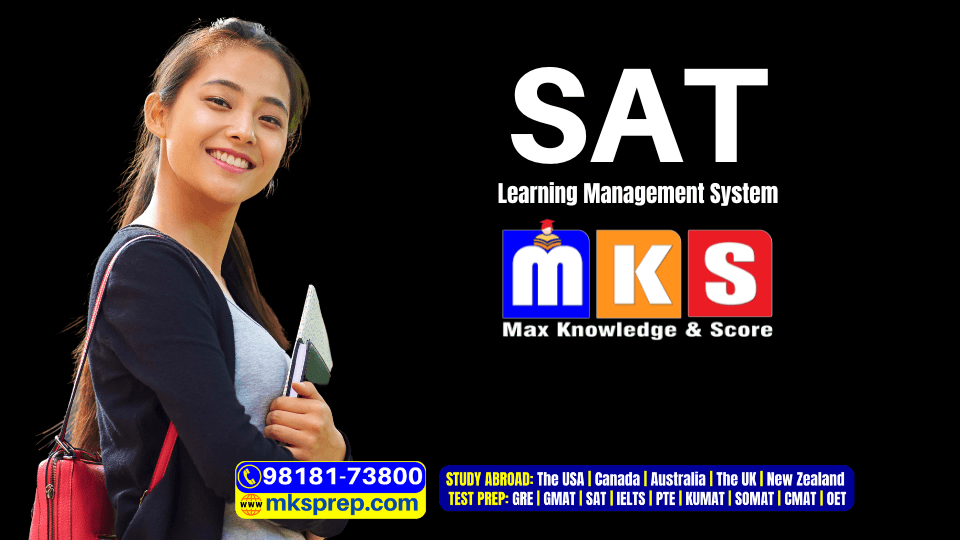 The NEW Digital SAT: What Nepalese Need to Know 2023
Apply for the course; we will call you back soon.
This content is helpful for
The SAT will hereafter be given in digital format. The College Board said that its signature exam would soon be entirely digital. Starting in spring 2024 in the United States and in spring 2023 for international students, the SAT will be given on a computer. The College Board says the test will still measure the same things, be scored on a 1600-point scale, and be offered at testing centers or schools. But the new digital test will be adaptive and will only take two hours instead of the current three, and students can take it on a laptop or tablet, including their own. The question is, what does it mean?
SAT Test Format
Sections
Number of Questions
Time Duration
Score Range
Verbal (Modules-I)
Verbal (Modules-II)
27 Questions
27 Questions
32 Minutes
32 Minutes
200-800
Quantitative (Modules-I)
Quantitative (Modules-II)
22 Questions
22 Questions
35 Minutes
35 Minutes
200-800
Total
90 Questions
134 Minutes
400-1600
The digital version of the SAT will be computer-adaptive.
Students will essentially get an SAT that is tailored to their performance. The higher their performance on the first segment, the more complex the second section's questions will be, and the more points each question will be worth. (There is no penalty for guessing, but it is to your advantage to answer as precisely as possible on the first part to maximize your chances on the second.)
The exam will last less time.
We are aware that testing fatigue exists and that it is challenging to concentrate for three hours. Fortunately, your wishes have come true: the new exam will last around two hours. Overall, less time will be required for test setup and the time-consuming preamble, which an in-person SAT monitor presently performs. There will also be fewer reading passages and more straightforward questions on the new test.
Increased calculator availability; feel free to bring your own.
The test's "no calculator" part is being taken away. And every student will be able to use a graphic calculator built in (though they can still bring their own).
Test centers will make computers available, or you can bring your own.
Don't worry if you don't have a computer of your own. On test days, students can use the devices supplied at the testing center or bring their own laptops or tablets.
New Digital SAT vs Paper bases test vs Paper base ACT
Changes
New Digital SAT
Paper SAT
Paper ACT
Format
Digital only via a College Board app
Paper-and-Pencil
Paper-and-Pencil
Timing
2 hours and 14 minutes
3 hours
2 hours and 55 minutes
Sections
2 Sections, each with 2 Stages
Reading and Writing
1. Combined R&W Stage 1 (32 min, 27 items)
2. Combined R&W Stage 2 (32 min, 27 items)
3. Math Math Stage 1 (35 min, 22 items)
4. Math Stage 2 (35 min, 22 items)
2 Sections, each with 2 Parts
Reading and Writing
1. Reading (65 min, 52 items)
2. Writing (35 min, 44 items)
Math
3. Math: No Calculator (25 min, 20 items)
4. Math: Calculator (55 min, 38 items)
4 Tests
1. English(45 min, 75 items)
2. Math (60 minutes, 60 items)
3. Reading(35 min, 40 items)
4. Science (35 min, 40 items)
5. Optional Essay (40 minutes, 1 item)
Score Range
400-1600 Total Score
200-800 Reading and Writing
1200-800 Math
College Board has indicated that current and digital SAT scores will be equivalent An ACT/SAT Concordance is used by colleges to compare SAT and ACT scores, and according to College Board, this same concordance will be valid for the new digital SAT
1-36 Composite Score
(rounded average of test scores)
1-36 each test: English, Math, Reading, and
Science
Structure
Adaptive Stage
The second section stage is more complex than the first stage based on how well the student did in the first stage. The test makes the second stage fit the student.
Static
The test doesn't change based on how well a student does.
Pool of questions
An algorithm produces question sets from a huge pool of questions labeled based on characteristics ranging from topic area to difficulty.
Includes subscores for Words in Context and Heart of Algebra and cross-test scores for Analysis in Science and Analysis in History/Social Studies.
Provides raw performance in topics like Conventions of Standard English, Algebra, Craft & Structure, and Data Interpretation.
Equating or Unscored Questions
Four unscored questions will be mixed in among the scored ones on both the Reading and Writing and Math tests.
Students are often given the fifth part of unscored questions for equating reasons.
Score Reports
Days after the examination
Students can no longer view their questions and answers.
Available two to three weeks after the test
Students may acquire a Question-and-Answer service in order to examine SAT questions for particular administrations.
Available two weeks after the test.
Students may request Test Information Release (TIR) to acquire a digital copy of the multiple-choice test questions for particular test administrations.
All of the current arrangements will stay the same. Students who need paper tests because of their accommodations will still be able to take them.
MKS Test Preparation specialty
Physical & Online Class
We have online & Physical classes. You can take either one or both.
Class Recording
We record every class. You can access the class recordings from home.
Unlimited Class
You can access the class until you get desired score.
Best Instructors in Nepal
Our most experienced instructors have the best track record for the best score in Nepal.
Learning Management System Portal
Our LMS portal helps you to manage your whole study plan with tons of study material.
LMS Portal feature
MKS instructors
Verbal Instructor
Mr. Bijay Shivakotee
Nepal's Most experienced and score-oriented instructor is himself an American college graduate. He has been a full-time GRE | GMAT | SAT | Language proficiency test instructor since 2000.
Quantitative Instructor
Mr. Manoj K. Singh
Highly experienced and score-oriented Instructor. To address students' needs and make Tests easy, he developed  Learning Management System (LMS), which managed students' overall study. 
Experience on Test of New Digital SAT vs Paper based SAT & ACT
Changes
New Digital SAT
Paper SAT & ACT
Navigation
Within each level, students can go back and forth through difficulties and utilize a flagging tool to mark questions for further review.
Within a portion of the timed exam, students are allowed to go back and forth and circle questions for further review.
Tool
The SAT app has a tool for highlighting and a tool for flagging.
Students can look at an overview of their "answer sheet" to see which problems have been answered or marked to be looked over later.
Students use different ways, like circling questions, to mark questions they want to return and look at again.
Rough work
Students can write on scratch paper given to them and then taken away at the end of the test.
You can't make a mistake because you can only see one question at a time on the screen.
Students can write in the test booklet, which is taken away during the test.
Because answers are written down on a separate sheet, bubbles can get mixed up.
Timing
A computer timer begins automatically when the student starts and is constantly visible.
The start time is often written on the board by a sometimes unreliable proctor, who may also offer updates.
The Topics and Structure of the Exam Questions
The College Board maintains that the scores obtained on the paper version of the SAT and the digital version are equivalent since the tested information does not change. However, there are several essential distinctions between the two.
Reading & Writing on New Digital SAT vs Paper SAT & ACT
Changes
New Digital SAT
Paper SAT
Paper ACT
Timing
64 minutes, evenly divided between 2 stages
Reading: 65 minutes Writing and
Language: 35 minutes
English: 45 minutes

Reading: 35 minutes

Format of the Passage
54 passage & question sets One short reading passage (25-150 words) per question
5 lengthy passages (600–700 words) to read, each with 10–11 questions 4 lengthy passages (500–700 words) with 11 questions each in writing and language
English: five passages of a medium length (300–350 words), each with 15 questions

Reading: 4 lengthy passages (every 750 words or more), each with 10 questions

Reading
In the first half of each Reading and Writing stage, reading questions are presented and organized by domain and question type:

1. Craft and Structure i. Words in Context ii. Text Structure and Purpose Cross-Text Connections2. Info and Ideas i. Central Ideas and Details ii. Command of Evidence (Textual or Quantitative)

iii. Inferences

The order and categories of the five passages will probably remain the same throughout:
i. U.S. and world literature ii. History| social studies iii. Science iv. History| social studies v. Science
The order and categories of the four passages are the same.

i. Literary narrative or prose fiction ii. Social sciences iii. Humanities iv. Natural sciences

Difficulty Level
Within each question type, the difficulty rises.
Chronological questions roughly correspond to the passage's order.
Random
Writing
In the second half of each Reading and Writing stage, writing questions are presented and organized by domain and then question type:

1. Standard English Conventions

2. Info and Ideas

i. Rhetorical Synthesis

ii. Transitions

The four passages will always represent the following subjects (which are not necessarily in this order):

i. History & social studies

ii. Careers

iii. Humanities

iv. Science

The five passages are written to resemble a high school writing. History reports and personal narratives are both acceptable topics.
Difficulty Level
Within each question type, the difficulty rises.
Chronological questions roughly correspond to the passage's order.
Chronological questions roughly correspond to the passage's order.
Quantitative (Maths) on New Digital SAT vs Paper SAT & ACT
Changes
The New Digital SAT
Paper Test
Paper ACT
Timing
Stage 1 – 35 min

Stage 2 – 35 min

No calculator Section-25 min

Calculator Section – 55 min

60 min
Question types
There are 44 questions total, with about 33 multiple-choice and 11 student-produced response questions.
15 multiple-choice questions are followed by 5 grid-in questions in Math-No Calculator. 30 multiple-choice questions followed by 8 grid-in questions on the math calculator
60 Questions
Content
Although domain names have changed, math content has not changed from the SAT paper:
1. Algebra
2. Advanced Math
3. Problem-Solving and Data Analysis
4. Trigonometry and geometry
There are four categories of questions:
1. Heart of Algebra
2. Passport to Advanced Math
3. Problem-Solving and Data Analysis
4. Additional Topics in Math
The ACT divides its questions into three overlapping areas and five different types.
1. Preparing for Higher Math
A. Number & Quantity
B. Algebra
A. Number & Quantity
D. Geometry
D. Geometry
2. Integrating Essential Skills
3. Statistics & Probability
Difficulty
The level of difficulty rises with each stage.
Within each section, the difficulty rises and then drops between multiple-choice and grid-in questions.
Within the section, the level of difficulty rises.
Use of Calculator
On all math questions, approved calculators or the built-in calculator of the testing application may be used.
On the Math-Calculator Test, only authorized calculators may be used.
Only authorized calculators may be used on the math test.
Frequently Asked Questions About the Digital SAT Suite
Throughout 2022, we will keep giving you more information about the change to the digital SAT Suite of Assessments.
Provides good learning platform. Satisfied
Prashant Kuikel
2023-10-31
"I had a fantastic experience with MKS Institution. Their online LMS portal made learning incredibly convenient, and the access to unlimited study materials was a game-changer. The instructors were knowledgeable, and the quality of education was top-notch. I wholeheartedly recommend it to anyone looking for quality education."
Divyanshu Gupta
2023-10-31
Best institution in ktm valley
Upendra Mahatara
2023-10-17
In MKSprep, classes are taught by the expert and the environment is quite and suitable for the students to focus on assignment and the many alumni have scored 1300+ so if you're looking for SAT class I highly recommend MKSprep for your better future.
Best for sat
Nice place for SAT
FAQ related to Digital SAT
Valuable Links to know The New Digital SAT
A useful link for the SAT (Scholastic Aptitude Test) is the College Board website, which provides detailed information about the test, including test dates, registration, and practice resources. The link is https://www.collegeboard.org/sat
We are sorry that this post was not useful for you!
Let us improve this post!
Tell us how we can improve this post?
.