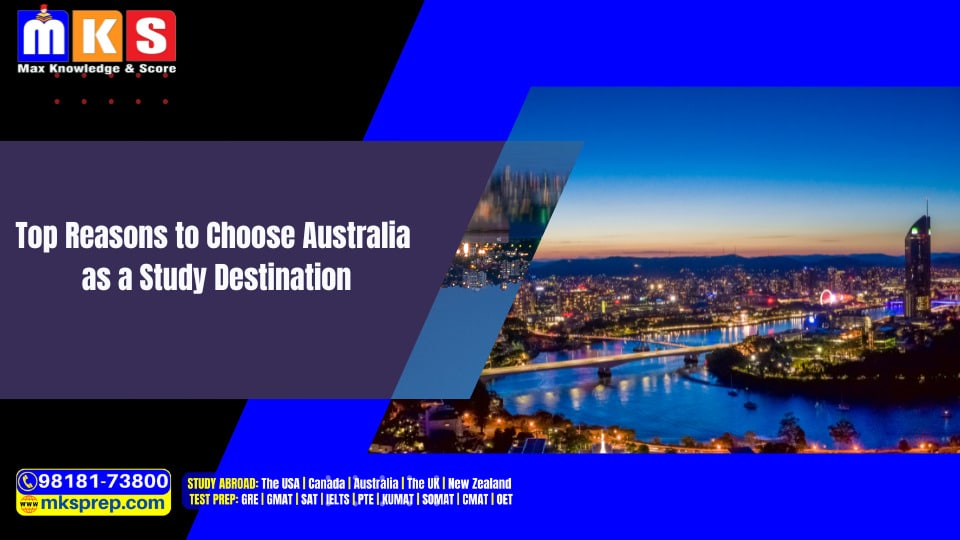 Top Reasons to Choose Australia as a Study Destination (For Nepal)
Are you interested in studying in Australia? Fill out the form we will contact you in no time.
This content is helpful for
Top Reasons to Choose Australia as a Study Destination (For Nepal)
Top Reasons to Choose Australia as a Study Destination (For Nepal)
Are you a student from Nepal dreaming of pursuing your higher education abroad? Australia might be the perfect destination for you. With its stunning landscapes, world-renowned universities, and diverse culture, Australia offers international students a unique and enriching experience. In this blog post, we'll explore the top reasons why you should consider Australia as your study destination.
1. High-Quality EducationAustralia is known for its exceptional education system and high academic standards. Australian universities consistently rank among the top in the world, offering a wide range of programs and degrees. Whether you're interested in engineering, business, medicine, or the arts, you'll find a program that suits your interests and career aspirations.
2. Diverse and Inclusive Society
Australia is a multicultural society that welcomes people from all backgrounds. As a Nepalese student, you'll find a friendly and inclusive environment where you can embrace different cultures and perspectives. This diversity enriches your educational experience and helps you build a global network of friends and contacts.
3. Beautiful Natural Landscapes
Australia is renowned for its breathtaking natural beauty. From the iconic Sydney Opera House to the stunning Great Barrier Reef, you'll have the opportunity to explore some of the world's most beautiful places during your stay. The country's diverse landscapes offer adventures ranging from surfing on pristine beaches to exploring lush rainforests.
4. Work Opportunities
Australia offers generous work opportunities for international students. You can work part-time during your studies (up to 20 hours per week) and full-time during semester breaks. This allows you to gain valuable work experience while supporting your living expenses.
5. Post-Study Work Opportunities
One of the most significant advantages of studying in Australia is the opportunity to stay and work in the country after graduation. The Post-Study Work Visa (subclass 485) allows you to work in Australia temporarily, depending on your qualification level. This can be a stepping stone towards permanent residency.
6. Safe and Welcoming Environment
Australia is known for its safety and welcoming nature. As a student, you'll feel secure and supported throughout your stay. The country's world-class healthcare system gives you access to quality medical services.
7. Scholarship Opportunities
Many Australian universities offer scholarships for international students, including those from Nepal. These scholarships help offset tuition costs and living expenses, making studying in Australia more affordable.
8. Research and Innovation
Australia is at the forefront of research and innovation in various fields. Studying here allows you to engage in cutting-edge research projects and work alongside world-renowned faculty members.
9. English-Speaking Environment
Studying in an English-speaking country like Australia offers a significant advantage. You'll improve your English language skills, making you more competitive in the global job market.
10. Quality of Life
Australia consistently ranks high in terms of quality of life. Its cities offer a high standard of living, excellent public services, and an outstanding work-life balance.
In conclusion, choosing Australia as your study destination can be life-changing. With its world-class education system, diverse culture, and abundant opportunities, it offers a pathway to a bright and successful future. If you're a student from Nepal looking to broaden your horizons, consider making Australia your academic home. Your Australian adventure awaits!
11. Global Recognition
Australian degrees are internationally recognized and respected. Graduating from an Australian university can open doors to job opportunities worldwide and enhance your career prospects.
12. Innovative Teaching Methods
Australian universities are known for their innovative and practical teaching methods. You'll experience hands-on learning, group projects, and real-world applications, preparing you for the workforce.
13. Access to World-Class Research
Australia is a hub for groundbreaking research across various disciplines. As a student, you'll be able to contribute to pioneering research projects and be part of cutting-edge discoveries.
14. Networking Opportunities
Studying in Australia offers excellent networking opportunities. You'll interact with classmates, professors, and industry professionals, building valuable connections for your future career.
15. Support for International Students
Australian universities provide comprehensive support services for international students. From orientation programs to academic assistance, you'll receive the help you need to succeed in your studies.
16. Cultural Experiences
Australia's diverse culture means you can experience various cultural festivals, cuisines, and traditions. It's a chance to broaden your horizons and gain a deeper understanding of the world.
17. Student Visa Options
Australia offers various student visa options, making it accessible for students of all levels and backgrounds. The application process is streamlined, and you can easily apply online.
18. Beautiful Campuses
Australian university campuses are known for their beauty and modern facilities. Studying in such an environment can enhance your overall academic experience.
19. Adventure and Travel Opportunities
Australia's unique geography and wildlife make it an adventure lover's paradise. Explore the Outback, go scuba diving in the Great Barrier Reef, or take a road trip along the stunning coastline during your breaks.
20. English Language Proficiency
Studying in an English-speaking country like Australia will significantly improve your English language skills, a valuable asset in today's global job market.
Australia offers a perfect blend of academic excellence, cultural diversity, and unparalleled natural beauty. Choosing to study in Australia can be a life-changing experience that prepares you for a successful future. If you're a student from Nepal looking for an unforgettable educational journey, Australia may be the destination you've been searching for. Your academic adventure Down Under awaits!
Helpful Links
Here are some official links that will be helpful for students from Nepal who are considering studying in Australia:
Study in Australia Official Website:
Australian Government Department of Home Affairs (Visa Information):
Australian Government Official Website:
Australian High Commission in Nepal:
Official Australian Universities and Institutions:
Each university in Australia has its official website with detailed information about courses, admission, scholarships, and campus life. Here are a few examples:
Overseas Student Health Cover (OSHC) Providers:
If you need health insurance as an international student, you can find approved OSHC providers here:
Australian Education Agents in Nepal:
If you'd like to get assistance from education agents in Nepal who specialize in Australian education, you can find a list here:
Australian Government Scholarships:
Information about scholarships provided by the Australian government can be found here:
Australian Education and Training Export Information System (AETIS):
This provides information about the education and training export sector in Australia.
Please note that the links provided are accurate as of my last knowledge update in September 2021. It's essential to verify the information and check for any updates or changes on these official websites, especially if you're planning to study in Australia in 2023.
FAQs
Certainly, here are some frequently asked questions (FAQs) related to studying in Australia for students from Nepal:
1. What are the entry requirements for Australian universities?
Entry requirements can vary depending on the university and program. Generally, you'll need to provide proof of your previous academic qualifications, such as high school certificates or a bachelor's degree. You may also need to demonstrate English language proficiency through tests like IELTS or TOEFL.
2. Are scholarships available for Nepalese students in Australia?
Many Australian universities offer scholarships to international students, including those from Nepal. These scholarships help cover tuition fees and living expenses. Be sure to check each university's scholarship opportunities and eligibility criteria.
3. Can I work while studying in Australia?
Yes, international students in Australia are allowed to work part-time (up to 20 hours per week) during the academic year and full-time during scheduled breaks. This can help you gain work experience and support your living expenses.
4. Is it possible to stay in Australia after completing my studies?
Australia offers post-study work visas that allow international graduates to work in the country after completing their studies. The length of the visa depends on your level of qualification. This is an excellent opportunity to gain work experience and transition to permanent residency.
5. How do I apply for a student visa for Australia?
To apply for an Australian student visa, you'll typically need to provide proof of enrollment in a recognized course, proof of financial capacity to cover tuition and living expenses, and meet health and character requirements. You can apply online through the Australian Government's Department of Home Affairs website.
6. What are the living expenses in Australia for international students?
Living expenses in Australia can vary depending on your location and lifestyle. On average, you should budget for accommodation, food, transportation, and other essentials. It's essential to research specific costs for the city or region where you plan to study.
7. Are there Nepalese communities or student associations in Australia?
Yes, there are Nepalese communities and student associations in many Australian cities. These groups can provide support, social connections, and a sense of community for Nepalese students studying in Australia.
8. How can I find accommodation in Australia?
Australian universities often provide accommodation options on or near their campuses. You can also explore private rentals, homestays, or shared accommodations. Many universities have dedicated housing services to assist international students in finding suitable places to live.
9. What is the healthcare system like for international students in Australia?
Australia has a robust healthcare system, and international students are generally required to have Overseas Student Health Cover (OSHC) while studying in the country. OSHC helps cover the costs of medical services and hospitalization.
10. Can I bring my family to Australia while I study? 
In some cases, you may be able to bring your family members to Australia while you study. This typically requires meeting specific visa requirements, such as financial capacity. It's essential to check the eligibility criteria for family reunion visas.
Remember that specific details and requirements may change over time, so it's crucial to verify the information and consult with the Australian Department of Home Affairs or the Australian Embassy or Consulate in Nepal for the most up-to-date guidance on studying in Australia.
Provides good learning platform. Satisfied
Prashant Kuikel
2023-10-31
"I had a fantastic experience with MKS Institution. Their online LMS portal made learning incredibly convenient, and the access to unlimited study materials was a game-changer. The instructors were knowledgeable, and the quality of education was top-notch. I wholeheartedly recommend it to anyone looking for quality education."
Divyanshu Gupta
2023-10-31
Best institution in ktm valley
Upendra Mahatara
2023-10-17
In MKSprep, classes are taught by the expert and the environment is quite and suitable for the students to focus on assignment and the many alumni have scored 1300+ so if you're looking for SAT class I highly recommend MKSprep for your better future.
Best for sat
Nice place for SAT
Study in Australia Related Posts
We are sorry that this post was not useful for you!
Let us improve this post!
Tell us how we can improve this post?