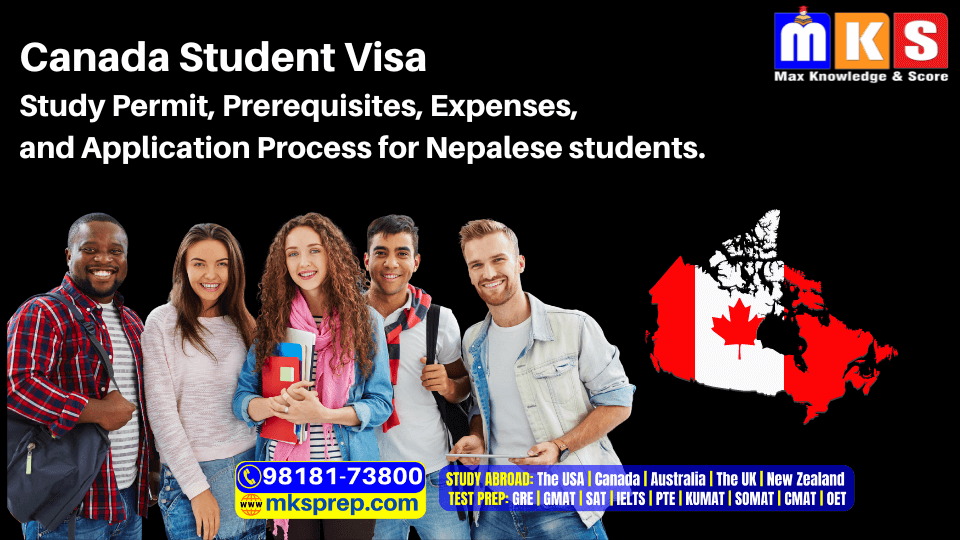 Canada Student Visa: Study Permit, Prerequisites, Expenses, Application Process
Apply for the course; we will call you back soon.
Canada Student Visa: Study Permit, Prerequisites, Expenses, and Application Process for Nepalese Students.
Nepal keeps sending a steady number of students to study in Canada. To get into the best universities in Canada, you need good grades, but you need a Study Permit to prove that you are allowed to study. Suppose you want to go to a university, college, or another school in Canada to get academic, professional, or vocational training. In that case, you will need a study permit before entering the country. Students who come to Canada obtain this study permit when they get there. To get there, a student must apply for a Temporary Resident Visa from the Canadian High Commission. The Visa Application Centers can help with this. Also, applicants should know why their Canada Visa application gets turned down. This article will tell you everything you need to know about getting a Study Permit and a Canadian student visa.
What is a Permit to Study in Canada?
A study permit is a document that international students need to study in Canada. The Canadian immigration authorities give it to them. Students outside Canada can't study there without a valid study permit. Students who get a study permit can also go to schools where they can learn. A Designated Learning Institution (DLI) is a school permitted to host international students by a provincial or territorial government.
How to Get a Study Visa for Canada?
When you go to Canada, you must bring the letter of introduction and the other documents they ask for. An Immigration Officer will meet you at the airport. Bring your passport and letter of introduction to the border control officer. They will check them and give you a study permit if they are valid.
Eligibility Criteria for Canada Student Visa
If you meet the following requirements, you can apply for a Canada Study Visa:
1. You must be a traveler who is fully vaccinated. Some vaccines are AstraZeneca/COVISHIELD, Bharat Biotech Covaxin, and others.
2. You have been accepted by a specific place to learn (DLI).
3. It would help if you showed that you have enough money to pay for your tuition fee, living costs for yourself and any family members who come to Canada, and return transportation for yourself and any family members who come with you to Canada.
4. You must show that you have never been in trouble with the law. The candidates must demonstrate a police verification certificate to prove this is true.
5. You need to get a health checkup and show a certificate from a doctor that says you are healthy.
6. During the visa interview, you also need to show the visa officer that you will leave Canada once your studies are done.
Which Documents are Needed for Canada Student Visa?
After you get an acceptance letter from the college, you should apply for a student visa. If you want to start in September, you should begin the visa process around June. Here are the things you need to apply for a Canada Student Visa.
1. Valid Passport
To apply for a Study Permit, you would need a valid passport. According to the Canadian High Commission, you must have a valid passport for the whole time you plan to stay in Canada. For example, if you want to take a two-year course in Canada starting in September 2022, your passport should be good until at least September 2024.
2. Proof that a designated learning institution has accepted the student
You would need an acceptance letter from the college or other school you want to go to. A college or university that the Immigration Department recognizes is called a "Designated Learning Institute." (Here is a list to help you remember.) If you want to move to Quebec, you will also need a CAQ, which will be sent to the right people.
3. Evidence of Money
You would have to show proof of income when you applied for your Study Permit. Based on the rules, you would have to show that you have enough money to pay our tuition fees and cover our living costs. Canadian Immigration thinks a student would need at least 10,000 CAD each year they stay. In addition to these two things, the student must show that they have enough money for a return fair. The following can be used to show that there are funds:
1. Account at a bank in Canada
2. A Guaranteed Investment Certificate (GIC) from a Canadian bank is part of the program.
3. Student loan or education loan
4. Statements from the last four months
5. Bank draft (it should be convertible to Canadian dollars)
6. Proof that tuition and housing fees have been paid
7. A letter from the person or school who gave you money.
8. Proof that the money came from inside Canada (in case of a scholarship or a Canadian-funded educational program)
The table below gives an idea of how much money applicants (from outside of Quebec) will need:
| | |
| --- | --- |
| Person | Funds Needed Every Year (not including tuition) – Outside of Quebec |
| First person to apply | CAD 10,000 |
| First person in a family | CAD 4,000 |
| Every new person who joins | CAD 3,000 |
The table below shows how much money applicants in Quebec need:
| | |
| --- | --- |
| Person | Funds Needed Every Year (not including tuition) – In Quebec |
| 1 person (under 18 years) | CAD 6,569 |
| 1 person (18 years or above) | CAD 13,134 |
| 2 persons (18 years or above) | CAD 19,264 |
| 2 people over 18 and 1 person under 18 (under 18 years) | CAD 21,579 |
| 2 adults (at least 18 years old) and 2 adults (under 18 years old) | CAD 23,290 |
4. Photos the size of a passport
If you choose to apply offline, you will need two photos that are the right size for a passport and meet the requirements. For an online application, you need a digital copy of the photo that isn't bigger than 4MB. Other rules include a neutral expression on the face, a plain background, and no headgear (unless for religious purposes). Note:
The picture should be at least 35 mm x 45 mm in size.
The image needs to be recent (not older than six months)
On the back of each picture, you must write your name and date of birth.
5. Immigration Medical Exam (IME)
International students from India who want to study in Canada must take an Immigration Medical Examination from a doctor on a list. Students would need to make an appointment with one of the doctors on the list and see them for a medical checkup, preferably a week before they start their Visa Application. This is, so the doctor has enough time to verify and upload the necessary documents. It is always a good idea to make an appointment with the closest facility or doctor on the approved list.
The doctor on the panel will give you a complete medical exam and may suggest that you get chest x-rays and lab tests. The doctor will send the results of your exam to CIC once the exam is done.
6. Score on the English Language Proficiency Test
Even though it's not required when you apply, we strongly suggest you take the English Language Proficiency Test and get your score before starting the Visa Application Process. As it is, you would have had to send your English language proficiency score to the Canadian University to confirm your admission. TOEFL, IELTS, etc., are all acceptable.
7. Statement of Purpose
When you apply for a Canadian Study Permit, you have to write an essay about why you want to go to Canada and why you want to go to that particular school. This document would be listed as optional on the checklist, but we strongly suggest you send it in.
8. Credit Cards
If you fill out an application online, you will need a credit card to pay the application fee. The cost to apply for a visa to study in Canada as an Indian student is 150 CAD. Please keep in mind that debit cards cannot be used with this system. It doesn't have to be your credit card, either. You can also use your parents' cards only if they give you their permission.
Besides these things, if you wanted to apply online, you would also need a digital scanner. But if you apply offline, you should have genuine copies of all the above documents. When you apply online, you will need to download a few forms, fill them out, print them, sign them, and then upload them. So, it's essential to make sure the scanner is available. You can also upload a high-quality digital image through the system. But we think a scanner is better than a camera.
During the personal interview, the interviewer might ask for more documents. These could be papers that show proof of your academic or financial status. Some of these are:
Transcripts, diplomas, degrees, or certificates from the schools you attended
Test scores from the TOEFL, SAT, GRE, or GMAT
Your plan to leave Canada after you finish the course of study
How you'll pay for school, living costs, and travel
Links for official sites
https://www.canada.ca/en/immigration-refugees-citizenship/services/application/check-processing-times.html
https://www.canada.ca/en/immigration-refugees-citizenship/services/study-canada/extend-study-permit.html
https://tc.canada.ca/en/initiatives/covid-19-measures-updates-guidance-issued-transport-canada
https://www.canada.ca/en/immigration-refugees-citizenship/services/coronavirus-covid19/offices.html
http://www.cic.gc.ca/english/visit/visas.asp
https://www.canada.ca/en/immigration-refugees-citizenship/services/come-canada-tool.html
Provides good learning platform. Satisfied
Prashant Kuikel
2023-10-31
"I had a fantastic experience with MKS Institution. Their online LMS portal made learning incredibly convenient, and the access to unlimited study materials was a game-changer. The instructors were knowledgeable, and the quality of education was top-notch. I wholeheartedly recommend it to anyone looking for quality education."
Divyanshu Gupta
2023-10-31
Best institution in ktm valley
Upendra Mahatara
2023-10-17
In MKSprep, classes are taught by the expert and the environment is quite and suitable for the students to focus on assignment and the many alumni have scored 1300+ so if you're looking for SAT class I highly recommend MKSprep for your better future.
Best for sat
Nice place for SAT