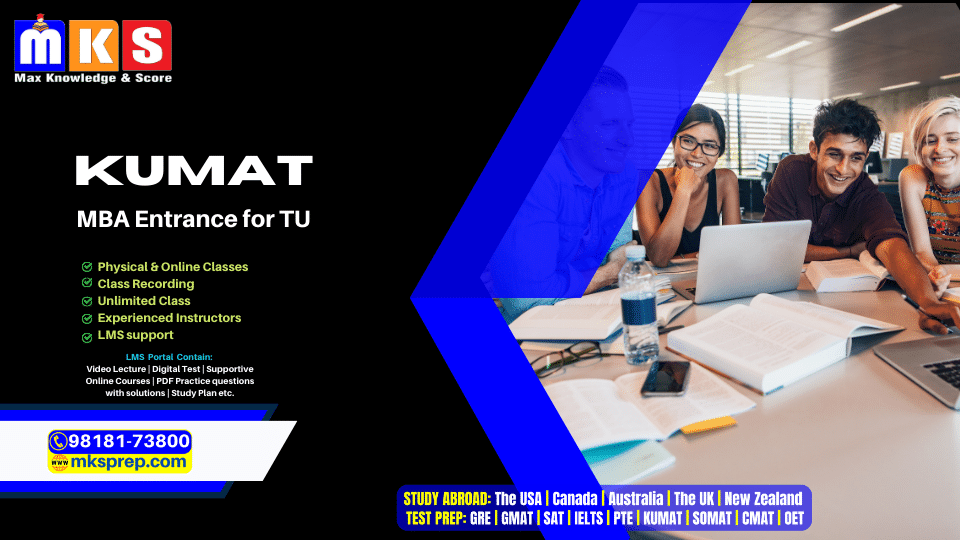 KUMAT for MBA in Nepal
Apply for the course; we will call you back soon.
This content is helpful for
KUMAT for MBA in Nepal
KUMAT is a GMAT-based entrance examination for MBA at Kathmandu University. KUMAT includes Verbal Reasoning, Quantitative Reasoning, and Writing for written exams. After the written exam, they take an interview for the final section.
Best KUMAT Classes in Kathmandu, Nepal
MKSprep conducts the best classes in Kathmandu, Nepal, with the best teams of instructors, Mr. Bijay Sivakotee and Manoj K. Singh.
We provide LMS support to students only with us in Nepal. Our LMS portal contains a Time-bound test for Reading Comprehension, Critical Reasoning, and Sentence Correction, all Quantitative Reasoning topics.
KUMAT in MKSprep
Physical | Online Class
Discover versatile KUMAT preparation alternatives through our array of online, in-person, and blended courses. Opt for singularly or meld multiple formats to craft a customized learning journey meticulously crafted to enhance your KUMAT triumph.
Class Recording
Gain entry to our archived KUMAT sessions at your own pace and from any location. Revisit course materials at a time that suits you best, fortifying your comprehension and elevating your test readiness journey.
Unlimited Class
Attain your desired score by maintaining uninterrupted access to our KUMAT sessions, even after finishing the course. Keep participating in classes until you achieve your performance goal, ensuring the highest success possible.
Experienced Instructors
Benefit from the expertise of our exceptionally skilled instructors, who boast a proven history of attaining top GRE scores in Nepal. KUMAT This guarantees that you receive the utmost quality in test preparation, positioning you for success.
Digital Mock Test
Engage in weekly all-encompassing full-length tests, daily half-length tests, and an expansive assortment of more than 300 section-specific tests. These intricately crafted evaluations closely emulate the structure and intricacy of actual KUMAT assessments.
LMS Portal Support
Experience the Comprehensive KUMAT Learning Management System (LMS) Portal, a resourceful tool for organizing your KUMAT study strategy. This feature-laden portal is replete with ample study resources meticulously curated to elevate your learning journey and optimize your test readiness.
Section
Subject
Type of Question
Number of Question
Time Duration
One
Quantitative
PS
DS
15
10
45 min.
Two
Verbal
RC
15
30 min.
Three
Verbal
SC & CR
20
40 min
KUMAT Test format
The Test is of 115 minutes
Section 1 (45 min), Section 2 (30 min), Section 3 (40 min) duration.
All the tests include multiple-choice items, and you must choose only one item that you are sure is correct.
Section 1: Quantitative Analysis — 25 questions to be completed in 45 minutes. Quantitative Analysis has two parts — the first consists of 15 problem-solving questions; 2nd part consists of 10 data-sufficiency problems.
The following are possible choices for answers. (to be served first)
Section 2: Reading Comprehension — 15 (to be served 2nd)
Section 3: Sentence correction & Critical Reasoning — 20 questions to be completed in 40 minutes (to be served last)
Provides good learning platform. Satisfied
Prashant Kuikel
2023-10-31
"I had a fantastic experience with MKS Institution. Their online LMS portal made learning incredibly convenient, and the access to unlimited study materials was a game-changer. The instructors were knowledgeable, and the quality of education was top-notch. I wholeheartedly recommend it to anyone looking for quality education."
Divyanshu Gupta
2023-10-31
Best institution in ktm valley
Upendra Mahatara
2023-10-17
In MKSprep, classes are taught by the expert and the environment is quite and suitable for the students to focus on assignment and the many alumni have scored 1300+ so if you're looking for SAT class I highly recommend MKSprep for your better future.
Best for sat
Nice place for SAT
KUMAT Preparation 2024
MKSprep is a student-focused institution driven by tangible outcomes. Our recent intake's impressive results stand as a testament to the exceptional services we offer. Embark on your KUMAT preparation journey with MKSprep for a guaranteed path to success.
MKSprep LMS Portal for KUMAT
MKSprep's LMS portal is an AI-driven practice platform that expertly steers students through every facet of their study journey, from effective study methods and optimal starting points to mastering time management. The repository includes 200 timed tests designed to emulate the real GMAT tests, honing students' time management skills while solidifying their concepts.
Each topic is accompanied by recorded video guides that ensure students stay on the correct trajectory. With a repository of 5,000 questions, success in KUMAT is virtually assured.
Verbal Instructor
Mr. Bijay Shivakotee
Nepal's Most experienced and score-oriented instructor is himself an American college graduate. He has been a full-time GRE | GMAT | SAT | Language proficiency test instructor since 2000.
Quantitative Instructor
Mr. Manoj K. Singh
Highly experienced and score-oriented Instructor. To address students' needs and make Tests easy, he developed  Learning Management System (LMS), which managed students' overall study. 
MBA ADMISSION
Program Requirement MBA in KUSOM
KUSOM MBA is open to Nepali and non-Nepali nationals with
• A Bachelor's degree of at least three years in any discipline.
• Minimum of 50 percent marks in aggregate or 2 GPA (from universities approved by Kathmandu University).
KU MBA Admission Inteks
• Spring Intek: November-December
• Fall Intek: August – September
Selection Process
After submitting the duly filled application form, along with two letters of recommendation, transcripts of your prior degrees, and the requisite admission test payment, the Admission Committee will oversee and manage the entire admission process.
The selection of the candidates is based on:
• Scores on the KUSOM Management Admission Test (KUMAT), consists of verbal and quantitative reasoning, data interpretation, and proficiency in the English language,
• Analytical writing, personal interview; and
• Merit of academic attainments up to the undergraduate level
Why MKSprep is the best KUMAT preparation centre in Nepal
| | | |
| --- | --- | --- |
| SN | MKSprep | Others |
| 1. | Regular five days a week 2 hrs class | not regular |
| 2. | Class recording for both verbal and Quantitative. | No class recording at all |
| 3. | Unlimited Class (can repeat class even after the course is finished) | no, not at all |
| 4. | Physical or online, or hybrid classes. one can switch one mode to another at any time | only one option |
| 5. | Huge e-library. All available books, ppt, pdf, and videos | no one has this option by now |
| 6. | Learning Management System (LMS). LMS manages your study. it contains all resources that you need to crack KUMAT. | no, not at all |
| 7. | Most experienced and fully dedicated full-time instructor | not perfect pair |
| 8. | More than 200 AI-based self-scoring tests in LMS | not possible |
| | | |
Watch this post in video format
Data Sufficient Questions in KUMAT
In quantitative aptitude tests, especially in exams like the GMAT (Graduate Management Admission Test), data sufficiency questions are designed to evaluate a person's ability to analyze a set of data and decide whether the given information is sufficient to solve a particular mathematical problem. These questions challenge test-takers to think critically, make logical deductions, and avoid unnecessary calculations.
Data sufficiency questions typically consist of a problem statement followed by two separate data statements. Test-takers must evaluate each statement individually and then determine whether the provided data is sufficient to solve the problem. The answer choices generally include options like:
Statement 1 alone is sufficient.
Statement 2 alone is sufficient.
Both statements together are sufficient.
Each statement alone is not sufficient.
Even together, the statements are not sufficient.
Data sufficiency is a crucial skill that assesses a person's ability to analyze and interpret information effectively to arrive at a valid conclusion or solve a problem without relying on extraneous data. It plays a significant role in testing quantitative reasoning abilities and decision-making skills, particularly in scenarios where efficient use of available data is essential.
Please read the directions carefully. How to answer before attending KUMAT Test:
1. There is only one correct answer or the best answer to each question. Multiple answers to any
question will not be counted for scoring. If you must erase/ cross out the answer, do it neatly.
Do not overwrite the crossed-out answer.
2. You will indicate your answer choice by writing the alphabet (a, b, c, d, e OR A, B. C, D, E) for the
relevant question number in the answer sheet.
3. If there is any mistake in framing or answering the questions, you will automatically get the credit. Do not waste time by inviting the supervisor's attention to a doubtful mistake.
4. At the end of the test, please do not leave your seat/ hall until the supervisor collects your Test Booklet and answer sheets.
5. Please do not write on the Question Booklet. You will be provided with a sheet for rough calculations.
6. You are NOT allowed to use the calculator.
7. You are not allowed to use a cell phone. Please switch off your cell phone throughout the examination period.
Note: There is a negative score for incorrect answers and zero for every omitted question. You will receive one point for every correct answer and zero for every question you Omit, but marks will be deducted for each wrong answer.
KUMAT FQA
Go through the KUMAT FAQ to learn more about KUMAT
1. What is the requirement for MBA Eligibility criteria?
Nepali and non-Nepali nationals with a Bachelor's Degree or the equivalent of at least three years in any discipline with a minimum of 50 percent in aggregate or 2.0 CGPA on a scale of 4.0 from universities recognized by Kathmandu University are eligible to apply for Kathmandu University's Two-Year MBA Program.
2. My final year results are not out. Can I apply?
Suppose you have completed the qualifying educational level. In that case, you can apply on a provisional basis, provided you have already taken the final year/ semester examination and passed all previous year/ semester examinations. However, even after admission, if you fail to meet KU SOM MBA eligibility requirement, your admission will be canceled.
3. What is the structure of the MBA admission test?
The admission test consists of two phases – ⇒ KUMAT (Kathmandu University Management Admission Test)
⇒ Personal Interview and analytical writing Applicants who are successful in the KUMAT will be called for the second phase.
4. What is the structure of KUMAT?
⇒ It is based on the GMAT format.
⇒ KUMAT consists of two sections: (The format may be altered with the decision of the Admission and Examination Committee) Verbal Comprehension, which will comprise three papers (sentence correction, critical reasoning, and reading comprehension). Quantitative Aptitude comprises three papers (problem-solving, data sufficiency, and logical reasoning).
⇒ A set of sample questions for the Admission test is attached to the application form.
⇒ KUMAT will be administered as a paper and pencil test. ⇒ The test shall consist of multiple-choice items only.
5. Where will be the KUMAT center?
The KUMAT will be held within KU SOM premises.
6. What is the time of KUMAT?
The time of KUMAT will be notified while distributing admission cards for KUMAT. You can also check it at www.kusom.edu.np.
7. What is the admission procedure fee?
The total Admission Procedure Fee is Rs.1000.
8. How can I pay the Admission Procedure Fee?
⇒ You can pay the Admission Procedure Fee online via digital wallets (Link can be seen on the KU SOM website)
⇒ You can also pay the Admission Procedure Fee at Nepal Investment Bank Limited (NIBL) extension counter located at KU SOM premises while submitting the application form and documents.
9. Where do I get the application form?
⇒ (For Online) If you have paid (Rs 1000) Admission Procedure Fee online via. You will receive an online application form in your email for digital wallets.
⇒ (For Offline) Application form can be downloaded from the KU SOM website www.kusom.edu.np or obtained from the KU SOM admission office on payment of Rs 1000.
10. Can I submit the application form online?
⇒ Whoever has paid Admission Procedure Fee online via digital wallet can submit their application form online, which they will receive in their email.
⇒ You can download the application form from the KU SOM website. You must submit the application form's hard copy to the KU SOM admission office.
11. Can someone else submit the application form for me?
Yes, anyone can submit the application form, but the application form should be filled out appropriately and submitted with the required documents on time.
12. When you need to submit referee evaluation forms?
You need to bring evaluation forms filled out by the referee during the second phase of the admission test.
13. What documents are required while submitting the application form?
You need to submit certified copies of the following documents:
⇒ Certified copy of Nationality certificate (for Nepali nationals) or certified copy of Passport (for foreign nationals). Indian Citizens can submit the Identity Card issued by the Embassy of India.
⇒ Certified copies of educational qualifications (Mark-sheets/Grade-sheets/Transcripts, Certificates, and Character Certificates) from SLC to the highest degree earned.
14. What needs to be done after submitting the application form?
After submitting the application form along with the necessary documents (as mentioned in the checklist), you need to do the following:
⇒ Collect Sample Test Questions. ⇒ Check if you are on the list of applicants selected for KUMAT. Note the date and time of your KUMAT.
⇒ Collect admit card for KUMAT. ⇒ Sit for the KUMAT on the date and time specified.
⇒ Check if you are through the first phase. ⇒ Attend the second phase on the allocated date and time. Please refer to the MBA Admission Calendar for the date and time of the activities.
15. From where do I collect the admit card?
You can get the admit card from KU SOM Admission Office during office hours.
16. Is there any weightage of previous performance?
The Admission test result will be based on your performance on the KUMAT and your performance on previous academic degrees.
17. Is a standard GMAT score accepted?
KU SOM Admission Committee may accept your valid standard GMAT score as a substitute for KUMAT. You need to submit separate application with scorecard.
18. When will the result be published?
The date of publication of results is given in the MBA Admission calendar.
19. Can I check the status online?
The selected applicants will be published on the KU SOM website www.kusom.edu.np.
20. How long the KUMAT score be valid?
The test score will be valid for the admission season only. You must go through the admission process again for the next admission batch.
21. What is the score one should earn to get through?
The score that will earn eligibility is subject to the group's overall performance. Based on the score of all applicants, the Admission and Examination Committee at KU SOM will decide the cut-off range for selection.
22. Are calculators allowed?
Calculators are not allowed in the KUMAT.
23. Is there a negative scoring system?
There is a system of negative scoring. For each wrong answer, your 0.25 marks will be deducted. That means 4 (four) wrong answers will neutralize 1 (one) correct answer.
24. Is there any limit to repetition/ trial?
There is no limit to the number of trials one can attempt before getting admission to the program.
25. When will be the next Admission Test?
MBA Admission takes place twice a year:
⇒ Spring Term
⇒ Fall Term
26. What is the duration of the Written Test?
The written test is usually 2 hrs 30 mins but depends on the number of questions.
We are sorry that this post was not useful for you!
Let us improve this post!
Tell us how we can improve this post?
We are sorry that this post was not useful for you!
Let us improve this post!
Tell us how we can improve this post?