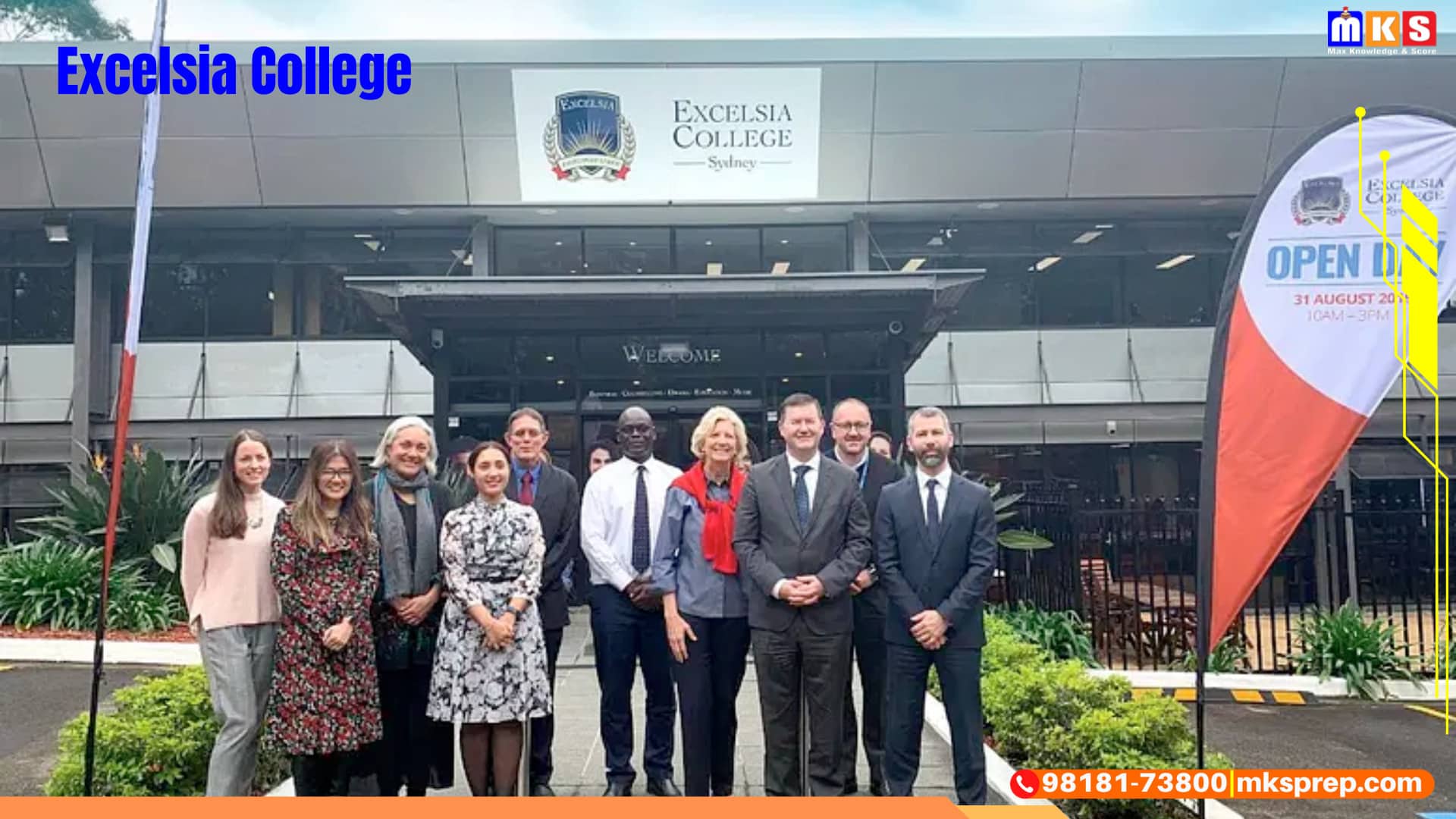 Excelsia College
If you are interested in studying at this college, please fill out the form. Our counselor will reach out to you soon.
Explor more options
Unveiling Excellence: Your Academic Odyssey at Excelsia College with MKS Educational Consultancy
Introduction
Embark on a transformative journey of education at Excelsia College. Nestled in the vibrant city of Sydney, Excelsia College stands as a beacon of academic excellence. With the seasoned guidance of MKS Educational Consultancy from Nepal, your pursuit of education at Excelsia becomes a guided and enriching experience.
Location, Faculty, and Placement
Location:
Excelsia College's campus, located in the heart of Sydney, provides a dynamic learning environment. The city's cultural richness and economic vibrancy create an immersive backdrop for academic pursuits.
Faculty:
Excelsia College boasts a faculty of experienced educators and industry professionals. Committed to nurturing holistic development, the faculty members impart knowledge and skills that extend beyond the classroom, preparing students for success in their chosen fields.
Placement:
Excelsia College is dedicated to connecting students with practical opportunities. Through strong industry networks, the college facilitates placements that allow students to apply their knowledge in real-world scenarios, fostering valuable skills and insights.
Price Range
Understanding the financial aspects of higher education is crucial. Excelsia College acknowledges this and provides a competitive price range, ensuring that students receive a quality education that aligns with their investment.
Academic Level
Undergraduate and Postgraduate Opportunities
Excelsia College caters to various academic levels, offering a diverse range of undergraduate and postgraduate programs. The curriculum is designed to empower students with the knowledge and skills required to excel in their chosen fields.
Courses
Explore a spectrum of educational possibilities with Excelsia College's comprehensive range of courses. From creative arts and education to business and leadership, the college's offerings are crafted to meet the evolving demands of various industries.
Price Range (for Courses)
Understanding the costs associated with specific courses is crucial for informed decision-making. MKS can provide detailed information about the price range for various courses at Excelsia College, ensuring students can plan their education effectively.
Scholarship Opportunities
Excelsia College values academic excellence and diverse talents, offering a range of scholarship programs. MKS Educational Consultancy can guide you through the application process, helping you secure financial support for your educational journey.
How to Approach Studying at Excelsia College from Nepal
Embarking on your educational journey at Excelsia College from Nepal is a well-guided process with MKS Educational Consultancy.
Consultation with MKS
Initiate your journey by consulting with MKS Educational Consultancy. Their experienced team will provide personalized guidance on choosing the right course, understanding admission requirements, and preparing necessary documents.
Application Process
MKS assists you in navigating Excelsia College's application process, ensuring all requirements are met. From documentation to understanding the visa application process, MKS provides comprehensive support.
Pre-departure Assistance
MKS offers pre-departure support, aiding you in preparing for life in Sydney. From accommodation arrangements to cultural insights, MKS ensures a confident and smooth transition to your new academic environment.
Frequently Asked Questions (FAQs)
Navigating your academic journey to Excelsia College with MKS Educational Consultancy might raise some questions. Here are some FAQs to address common queries:
General Questions:
Why choose Excelsia College for higher education?
Excelsia College is known for its commitment to holistic education, industry connections, and vibrant campus life. Explore the unique features that set Excelsia apart for aspiring students.
What is the role of MKS Educational Consultancy in the study abroad process?
MKS Educational Consultancy plays a vital role in guiding students through the entire study abroad process, from course selection to visa applications and pre-departure preparations.
Financial Considerations:
What is the average price range for tuition fees at Excelsia College?
Understanding the cost of education is crucial. MKS can provide detailed information about tuition fees at Excelsia College, including variations based on courses and academic levels.
Are there scholarship opportunities for international students at Excelsia College?
Excelsia College offers various scholarships, and MKS can guide students through the application process, providing insights into eligibility criteria and deadlines.
Academic Aspects:
How does Excelsia College support students in gaining practical experience through internships?
Excelsia College emphasizes practical learning, and many programs include opportunities for internships. MKS can provide details on specific programs that offer hands-on experience.
What academic levels does Excelsia College offer, and how do I choose the right program?
Excelsia College caters to both undergraduate and postgraduate levels. MKS can guide you through the process of selecting a program that aligns with your academic and career goals.
Study Process:
How does MKS Educational Consultancy assist with the visa application process?
MKS can provide step-by-step guidance on the visa application process, ensuring that students have all the necessary documents and meet the requirements set by the Australian government.
Can I work part-time while studying at Excelsia College as an international student?
Yes, international students on a student visa in Australia are usually allowed to work part-time during the academic session and full-time during scheduled breaks. MKS can provide information on regulations and opportunities.
Pre-Departure Assistance:
What pre-departure support does MKS offer, and how can I prepare for life in Sydney?
MKS offers assistance with accommodation arrangements, cultural insights, and practical tips for adjusting to life in Sydney. They ensure that students are well-prepared for a smooth transition.
Can I bring my family with me while studying at Excelsia College, and what support is available for families?
MKS can provide information on visa options for family members and any support services or resources available to students with families.
Helpful Links
Stay connected and informed through official accounts and resources:
For Excelsia College: